Photo Gallery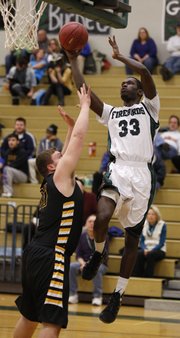 Free State boys basketball v. Shawnee Mission West
Images from Tuesday night's game between the Free State and Shawnee Mission West boys.
Box score
FREE STATE (43)
Tristan Garber 2-2 0-0 6, Blake Winslow 0-2 0-0 0, Cole Moreano 2-7 0-0 5, Keith Loneker 0-3 4-4 4, Keegan McKinney 1-3 0-0 2, Weston Hack 1-3 0-0 2, Reshawn Caro 1-4 0-0 2, Justin Narcomey 0-1 0-0 0, Innocent Anavberokhai 1-2 0-0 2, Khadre Lane 5-10 9-11 20. Totals 13-37 13-15 43.
SHAWNEE MISSION WEST (48)
Louis Rollins 6-10 1-3 17, Zach Witters 1-4 2-2 5, Justin Fetzer 3-7 3-5 9, Mitch Wade 5-7 2-4 13, Jesse Wilkins 0-3 0-0 0, Nick Banman 1-2 0-1 2, Austin Chambers 1-1 0-0 2. Totals 17-34 8-15 48.
SM West 13 10 13 12 — 48
Free State 14 11 6 12 — 43
Three-point goals: SM West 6-12 (Rollins 4, Witters, Wade); Free State 4-14 (Garber 2, Moreano, Lane). Fouled out: Moreano. Turnovers: SM West 7, Free State 6.
Free State High's boys basketball team hit big shots in the fourth quarter on Tuesday night at FSHS. Shawnee Mission West answered with bigger ones.
The Firebirds cut a seven-point deficit with under five minutes to play to one point when senior Cole Moreano made a three-pointer with 2:15 left. SM West junior Louis Rollins responded with a three-pointer of his own on the following possession, and Free State wouldn't get closer in a 48-43 loss.
Free State (11-8) entered the fourth quarter down, 36-31, after scoring only six points in the third on 3-of-10 shooting. The Vikings (6-13) went on a 7-0 run over the last four minutes.
"Sometimes we're a really good offensive team, probably one of the best offensive teams I've coached," FSHS coach Chuck Law said. "Then we just have these moments where we just can't seem to put it in the basket and try different things, try to run some sets and things like that. We didn't have a lot of success with any of the buttons we pushed tonight."
Senior Khadre Lane scored the first seven points for the Firebirds in the fourth quarter, converting a layup while drawing the foul, then making that free throw plus his following four attempts at the line.
"I tried to get in a rhythm that way because it's a lot easier hitting free throws than jumpers and layups," said Lane, who finished with a game-high 20 points and added a team-high five rebounds. "They were giving me calls tonight, so I just kept trying to get to the line."
Lane's three-point play made it a two-point game, but SM West senior Mitch Wade drilled a high-arcing jump shot to stretch the Vikings' lead.
"I didn't expect them to shoot the ball that well, but it happens, and when they did miss we didn't clean it up," Law said. "We gave them numerous second-chance opportunities and they converted a lot of those (for seven points in the third quarter)."
After Moreano and Rollins traded three-pointers, the Firebirds turned the ball over and the Vikings went 3-for-5 at the free throw line in the final 32 seconds. SM West shot 9-for-15 from the field in the second half.
"They got open shots," Lane said. "We didn't play defense. They would reverse the ball two or three times, we gave up a wide-open layup under the basket like two or three times and they were hitting wide-open jumpers."
Free State led 25-23 at halftime after senior Reshawn Caro found Lane for a three-pointer before the buzzer. The Firebirds' bench scored 10 points in the first half, highlighted by senior Tristan Garber, who hit three-pointers on back-to-back possessions at the end of the first quarter.
"We had a great rhythm and it's fun playing like that because everybody is involved and cheering everybody on," Garber said. "That just didn't happen in the second half."
Free State's offensive flow stalled after halftime as the team shot 31 percent (5-for-16) from the field. Lane scored 13 of the team's 18 points, with seven from the free throw line.
"It's frustrating because we weren't playing together, we weren't making shots, we weren't making it easy," Moreano said. "Nothing was easy for us tonight, I don't know why. It was awful and it was pathetic."
The Firebirds will play host to Lawrence High in the second tilt of the City Showdown at 7 p.m. Friday.
Copyright 2018 The Lawrence Journal-World. All rights reserved. This material may not be published, broadcast, rewritten or redistributed. We strive to uphold our values for every story published.