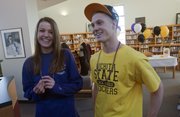 Free State High seniors Bailey Sullivan and Stan Skwarlo both took unique paths to get where they are in their track careers. Now they are headed to Division-I programs.
Both runners held their signing day ceremony on Friday afternoon in the Free State library.
"It feels really good," Sullivan said. "I got to have a little celebration at home with my family (on signing day), but it's really nice to have all of my friends and coaches and everyone here to help me because I wouldn't have been able to get here without them."
Sullivan, who signed with Texas Christian University, was injured in the cross-country season during her freshman year. Former Firebirds track coach Steve Heffernan convinced her to run the 800-meter race in track, and she improved throughout her high school career to take second place in the state meet last year while also winning the 1600.
She chose TCU after hearing good things about the program from her best friend's older brother, Preston Newsome, who is on the team.
"I've taken three visits there and every single time I feel more and more comfortable on campus," Sullivan said. "The last time I was there, it just felt right. I got that feeling that everyone says to look for. It just feels like home there."
Skwarlo never spent all of his time focused on track, as he played football for three years and he also wrestled and played baseball. Skwarlo took sixth-place at the state meet last year in the 800 and 1600.
"It's really nice that I'm actually able to focus on my running and to be able to really run year-round," said Skwarlo, who will run at Wichita State University and is also interested in going to medical school afterward. "It's something that I've never done before but I'm excited to do it."
Both runners are happy to put the focus on college aside for now.
"It's just a big weight that got lifted off of me," Skwarlo said. "It just feels really good that I'm able to focus on this upcoming track season."
Copyright 2018 The Lawrence Journal-World. All rights reserved. This material may not be published, broadcast, rewritten or redistributed. We strive to uphold our values for every story published.