With the right tools and a little practice, splitting wood can be fun and rewarding.
Step 1: Splitting mauls are by far the best tool for splitting wood. Basically a splitting wedge with a handle, splitting mauls are less likely to get stuck in the wood and their design creates outward pressure within the wood to facilitate splitting. For most, the lighter-weight mauls work better than heavier mauls because they are easier to swing at a higher speed.
Step 2: Cut a round of wood to use as a chopping block. The round should be about knee high and level.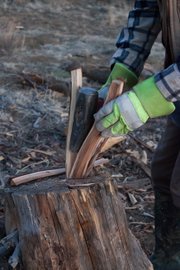 Step 3: Place the wood to be split on the round with its smaller end facing upward. Look for cracks or weak spots in the wood and position the weak spot closest to you.
Step 4: Stand back from the round, preferably slightly uphill. Set the maul blade on the top of the log, near the edge, rather than dead center, parallel with the weak spot. The maul handle should be at hip height, forming a 90-degree angle with the wood. Fully extend your arms and grasp the handle with your dominant hand above your weaker hand. Bend slightly forward at the waist. Step back half a step and set your feet firmly on the ground, shoulder width apart.
Step 5: Lock your focus on the intended impact spot. Concentrate on driving the maul straight through the wood, visualizing the split wood.
Step 6: With arms fully extended, from a slightly bent position, stand up, raising the maul straight over your dominant side's shoulder.
Step 7: Without hesitation begin a downward swing with the maul, aiming through the wood. Your dominant hand should slide down the maul handle to meet the lower hand during the swing. It is the speed of the swing, rather than the force of the blow, that will split the wood.
Step 8: Immediately before impact, pull slightly back using your core muscles and legs — not your arms.
Step 9: Impact should be at a 90-degree angle. Bend at the waist as the maul head strikes, with knees slightly bent, to allow the maul head to travel straight through the wood.
Step 10: Continue to strike the same spot in the same manner until the log is split. Logs can be split in halves, quarters or smaller depending on your needs.
Copyright 2018 The Lawrence Journal-World. All rights reserved. This material may not be published, broadcast, rewritten or redistributed. We strive to uphold our values for every story published.