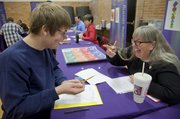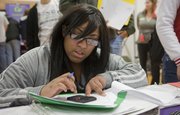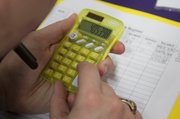 I'm part way through the month and have paid for my mortgage, utilities, car, insurance, cell phone, a haircut and some moderately priced professional clothes. My two kids — they're 1 and 2 — are fed well, wearing garage-sale outfits and getting the multichild discount at a daycare center.
But I still haven't paid my medical bills, saved any money, donated to charity or gone out for any fun. And I think I might have a student loan payment due?
Crap. The $107 I have left is not going to cut it.
Maybe the cute bungalow I bought is out of my league? I want to look nice at my marketing job, but should I be getting my own outfits secondhand, too? Furthermore, why did I have two kids without getting married?
Sigh.
Back in high school, this was not the reality I pictured for my 26-year-old self. Posing as a student to go through a financial literacy program called Reality U Wednesday at Lawrence High School was a reminder for me — and an eye opener for the real teens around me — of some key truths.
One: Life is expensive.
Two: It doesn't always happen like you planned.
A third truth Reality U organizers want teens to realize is that staying in school and getting good grades can help you get the career and lifestyle you want. (For example, with a higher-paying job you could be driving the sporty Acura instead of the 15-year-old station wagon with 121,000 miles on it that 26-year-old me is rocking in this scenario.)
"It leads them to that aha moment that what they're doing now in high school affects their future," said Brooke Miller, Northeast Kansas director for Communities in Schools. "Maybe they can make some modifications now to get where they want to be."
About 175 students from Lawrence High's Integrated Studies program were scheduled to participate in Reality U this week. With money from a FINRA Investor Education Foundation grant, the Lawrence Public Library worked with Communities in Schools to put on the program, which they hope to replicate at Free State High School.
Participants fill out a survey indicating where they see themselves at 26. Reality U takes those answers, factors in GPAs and assigns credit scores and salaries they'll use to go through the program, where they stop at various stations to make choices about monthly life expenses.
•••
I must admit, this grownup was surprised and impressed when some of the students reminded me of a thing or two about life and money.
As a high school senior, I assumed that by 26 (so old!) I'd obviously be married with two kids, living in a nice house and working in journalism — which probably would pay great because it's kind of glamorous, pretty competitive and typically requires a college degree.
My Reality U profile gave me the kids and a $46,343 salary (way more than I was actually making at 26) but also a huge curve ball: no spouse. Not sure what happened to my pretend kids' dad, but apparently he's not in the picture and neither is his income.
As I shelled out some of my last remaining cash on life insurance, I coveted line-mate Wilson Arnett's Reality U life.
Single, no kids, making almost $78,000 working in the engineering and math field — Wilson had it made. He'd already paid most of his big expenses, donated $300 to charity and still had $2,500 left for the month.
"I'll probably save it," said Wilson, a senior. "You've always got to get the basics out of the way first."
Instead of one of the tempting bigger houses, thrifty Wilson bought a two-bedroom, two-bath house for just $623 a month. He wasn't driving the Acura, either, or the fancy new pickup. A used Crown Vic was good enough for him.
Another smart shopper was junior Tasheana Dixon.
In her 26-year-old pretend life she, too, was a single mom of two making $34,900 a year, which she stretched to cover all her expenses except entertainment, charitable giving and the cellphone bill. She chose to rent a two-bedroom apartment but was picking up a second job in hopes of upgrading to something bigger later.
•••
My REAL reality?
I'm 34 and married, and we're expecting our first baby in a couple of months. We own a modest but comfortable house and reliable cars. I went to college, double-majored, got good grades and have held a full-time, living-wage job with benefits for more than 10 years, and so has my husband. We're hardly royals, but we're doing just fine.
Nonetheless, confirming the real cost of full-time daycare — we're enrolling baby-to-be this week — literally turned my stomach.
I could say the same thing about the time we had to replace a leaky toilet ... and then three weeks later, the other toilet. Or the phone calls bearing estimates for fixing some of the less reliable cars I've owned through the years (Seriously, an entire paycheck? Gulp.).
Yep, life is expensive and not always predictable. But setting goals and making good choices never hurts.
Tasheana seemed to get this already.
In her real reality, Tasheana wants to become a domestic violence counselor. To get there, she wants to double major in criminal justice and human services. To get there, she wants to keep up her GPA and get a scholarship to attend college.
Her own mom works two jobs to provide for Tasheana and her two siblings, which she kept in mind while budgeting her month at Reality U.
"It has me actually realizing what my mom is going through," Tasheana said. "You've got to sacrifice a lot for your children. I may not get the things that I want, but I want to do the best that I can with my children."
Copyright 2018 The Lawrence Journal-World. All rights reserved. This material may not be published, broadcast, rewritten or redistributed. We strive to uphold our values for every story published.