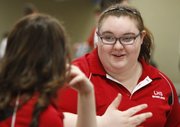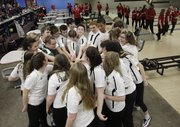 World Company Cup
Here are the current standings for the World Company Cup, which tallies head-to-head results involving the city's two large-class high schools. In sports that do not compete head-to-head, a point is awarded to the team that fares better in the league meet.
FSHS LHS
Football 1 0
Volleyball 0 1
Boys soccer 0 1
Girls tennis 1 0
Girls golf 1 0
Boys cross country 1 0
Girls cross country 1 0
Gymnastics 1 0
Boys swimming 1 0
Boys basketball 0 1
Girls basketball 1 0
Wrestling 0 1
Boys bowling 0 1
Girls bowling 0 1
Totals 8 6
-->
-->
When Lawrence High bowling coach Paula Bastemeyer gets an opportunity, she likes to remind her bowlers that this season they've been a bunch of "two-game wonders."
None of the Lions, she said, have been able to string three quality scores together for a series.
LHS senior Tre Sexton has heard the line plenty of times.
"She's always giving me crap about it," he said, smiling, after the Lions beat rival Free State in a City Showdown dual Tuesday afternoon at Royal Crest Lanes, "because I've only been having two good games."
The two-game trend stayed alive in the dual for Sexton, the top overall performer (610) among the boys, and many other Lions, even though Lawrence swept FSHS — the boys won, 2,339-2,302, and the girls prevailed, 2,134-1,989.
Sexton's ball kept hooking too much in his second game, and he couldn't fix the situation, so he changed bowling balls for the third game. The move worked, but he still had that 158 sandwiched between games of 227 and 225.
"I'm happy I got a 610, but I'm just a little disappointed in myself for having a terrible second game," Sexton said. "Just bad."
LHS sophomore Miranda Krom, the girls individual champion with a 570 series, voiced the same complaint for herself and her teammates.
"I think there were some struggles," Krom said after a 203-156-211 series. "Even I struggled my second game. But we all pulled through and won."
In fact, Lawrence's girls owned four of the top five individual scores.
Kierstan Warren (549) placed third, Mary Wroten (501) took fourth and Allie Crockett (478) finished fifth.
The only Firebird to break into the top finishers was junior Bri Martin, second at 551. Martin said the Lions were favored coming in, because they had better season averages, but Free State's bowlers thought they could battle their friends from across town on what served as Senior Night for both teams.
"I didn't think that it was going to take something spectacular," Martin said of defeating LHS. "I just thought we were all gonna have to bowl our best."
Free State's boys held two spots in the top five. Matthew Eagle (598) finished second, just 12 pins behind Sexton, and Eric Glogau placed fourth, with a 590.
A junior, Glogau said the rivalry dual provided a fun environment with a competitive undertone.
"It's more relaxed," he said of the vibe. "We all know each other. It's like bowling with friends, as opposed to bowling against teams you don't know."
Lawrence's Montez Sanchez placed third with a 592, and the Lions' Ivan Davidson took fifth with a 578.
Varsity girls
Lawrence 2,134, Free State 1,989
Top 5 individuals: 1. Miranda Krom, LHS, 570; 2. Bri Martin, FSHS, 551; 3. Kierstan Warren, LHS, 549; 4. Mary Wroten, LHS, 501; 5. Allie Crockett, LHS, 478.
Varsity boys
Lawrence 2,339, Free State, 2,302
Top 5 individuals: 1. Tre Sexton, LHS, 610; 2. Matthew Eagle, FSHS, 598; 3. Montez Sanchez, LHS, 592; 4. Eric Glogau, FSHS, 590; 5. Ivan Davidson, LHS, 578.
Copyright 2018 The Lawrence Journal-World. All rights reserved. This material may not be published, broadcast, rewritten or redistributed. We strive to uphold our values for every story published.