Photo Gallery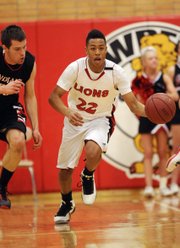 LHS boys basketball vs. SM North
Lawrence High junior Anthony Bonner walked out of Tuesday night's basketball game against Shawnee Mission North with a large scratch across his face and a bruised elbow.
That was the price to pay in a game that included 47 fouls and 63 free throws.
Bonner scored a game-high 23 points and grabbed three steals in a gritty 76-62 win at LHS.
"The defense was good," Lions coach Mike Lewis said. "We were gambling and kind of scrappy and putting pressure on them."
Bonner helped the Lions open a 19-6 lead by scoring 11 points in the first quarter, despite exiting with more than two minutes left due to foul trouble.
"Last week I actually had a slump," said Bonner, who also had five rebounds and four assists. "Coach motivated me, and I've been in the gym with my dad over the weekend to get my shot back. It definitely feels great shooting like that."
SM North (5-11) tied the game midway through the second quarter, but junior John Barbee started a 16-6 run for the rest of the half by drilling a three-pointer and getting a steal on the next possession.
"He makes a lot of hustle plays," Bonner said about Barbee, who finished with 17 points, seven rebounds and three steals. "He makes a lot of plays that I don't even see him coming. He really surprises me. He's a great defender. I'd say he's the best defender in the state. I love playing with him."
The Lions (14-3, ranked No. 6 in Class 6A by the Kansas Basketball Coaches Association) lost sophomore point guard Justin Roberts for nearly three minutes in the third quarter due to a right thumb injury.
In Roberts' absence, LHS went 3-for-4 from the field, with Ben Rajewski hitting a three-pointer, Connor Henrichs scoring on a layup and Bonner converting a layup on a fastbreak.
The Indians pulled within nine points midway through the fourth quarter after sophomore Greg Sloan threw down a vicious putback slam, but they wouldn't get any closer as the Lions scored on four of their next five possessions.
LHS will play host to Olathe North at 7 p.m Friday.
LAWRENCE (76)
Justin Roberts 5-8 1-2 12, Connor Henrichs 3-6 0-3 6, Price Morgan 5-6 5-7 15, Ben Rajewski 1-4 0-2 3, Anthony Bonner 8-11 4-7 23, John Barbee 6-10 4-5 17, Anthony Riley 0-1 0-0 0. Totals 28-46 14-28 76.
SM NORTH (62)
Reggie Rivers 0-4 1-4 1, Marcus Weathers 5-8 2-8 12, Greg Sloan 3-6 2-6 8, Michael Weathers 7-13 5-12 19, Scott Johnson 7-13 0-2 14, Jackson Hinton 2-2 2-2 6, Cole Gibson 1-2 0-0 2, Will Schneider 0-0 0-1 0. Totals 25-48 12-35 62.
SM North 13 18 17 14 — 62
Lawrence 20 21 19 16 — 76
Three-point field goals: SM North 0-4; Lawrence 6-13 (Bonner 3, Barbee, Rajewski, Roberts). Fouled out: Morgan, Sloan. Turnovers: SM North 15, Lawrence 15.
Copyright 2018 The Lawrence Journal-World. All rights reserved. This material may not be published, broadcast, rewritten or redistributed. We strive to uphold our values for every story published.