Photo Gallery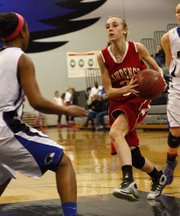 LHS girls vs. Olathe Northwest
Box score
LAWRENCE (48)
Olivia Lemus 2-3 0-0 5, Skylar Drum 2-5 1-2 6, Brook Sumonja 0-2 0-0 0, Makayla Bell 2-8 0-1 5, Hailey Belcher 1-4 0-0 3, Kionna Coleman 9-21 5-10 24, Jolona Shield 2-7 0-0 5, Alexis Boyd 0-0 0-2 0. Totals 18-50 6-15 48.
OLATHE NORTHWEST (66)
Shaleia Jamison 3-11 6-10 12, Sydney Mortensen 4-7 6-6 15, Ashley Heller 1-1 7-8 9, Annemarie Boeh 2-6 0-0 5, Sierra Mortensen 1-4 2-5 4, Shea Shipman 5-13 6-6 18, Hannah Renell 0-0 1-2 1, Hannah Stohr 1-1 0-0 2, Sami Marks 0-2 0-0 0, Ragan Kinkade 0-1 0-0 0. Totals 17-46 28-35 66.
Lawrence 11 19 7 11 — 48
Olate NW 10 22 15 19 — 66
Three-point goals: Olathe NW 4-16 (Shipman 2, Boeh, Sy. Mortensen); Lawrence 6-19 (Lemus, Drum, Bell, Belcher, Coleman, Shield). Turnovers: Olathe NW 14, Lawrence 21.
-->
-->
Olathe — Lawrence High's girls basketball team didn't end Friday's game with a victory at Olathe Northwest. They did walk away with confidence in their new point guard.
After junior point guard Marissa Pope suffered a likely season-ending left foot injury and freshman starter Jaycie Bishop sat out due to a concussion, freshman Skylar Drum was given the keys to offense.
Drum responded with six points, five assists, eight rebounds and only five turnovers against Olathe Northwest's half-court-trap defense that constantly tried to double-team her in an eventual 66-48 LHS loss.

"Skylar in my opinion was amazing," Lions coach Nick Wood said. "For a freshman to have to come in there in late February and for us to give her the keys and say, 'We need you, kid,' she did amazing."
Drum only had one turnover in the first half as the Lions fought to a 32-30 halftime deficit.
"It was a little scary at first," Drum said. "Once I got into it, I didn't really think about it, I just played."
Wood added: "She handled the pressure. It didn't look like it was her first game having to play basically the entire game, handle the ball, get us in offense, guard their best player, all the above. What a great performance by her and so proud of her. She did great."
The Ravens (8-8) opened the third quarter on a 11-4 run, as the Lions (4-12) missed four of their first five shots and turned the ball over six times.
"We didn't give ourselves a chance to hang around in the game," Wood said. "We came out in those first few minutes in the third quarter and had a few defensive lapses, and they made shots, and we weren't making shots. That allowed them to get out in front."
The Lions closed the first quarter on 7-2 run after Drum drove in for a layup, and senior Kionna Coleman scored five points in the final minute.
Coleman scored 11 of Lawrence's 19 points in the second quarter, shooting 5-for-5 in the stretch. The 5-foot-9 forward spun past defenders in the post and shot jumpers when the Ravens bunched their post players inside.
"First half we had a lot of energy, but second half we came out kind of dead," Drum said. "It was because we didn't have a whole lot of subs. We were playing the whole game."
Olathe Northwest opened the fourth quarter with a 12-2 run as the Lions failed to get a defensive stop on four straight possessions and missed their first five shots.
Although the Lions couldn't keep pace in the second half, they found a reliable freshman point guard that can withstand pressure defenses and operate the team's offense.
"It's not a good deal that we lost but there are so many positives to take away from tonight," Wood said. "Moving forward these last two weeks of the regular season, hopefully we can build on that and have some success."
The Lions will face Shawnee Mission North at 5:30 p.m. Tuesday at LHS.
Copyright 2018 The Lawrence Journal-World. All rights reserved. This material may not be published, broadcast, rewritten or redistributed. We strive to uphold our values for every story published.