Photo Gallery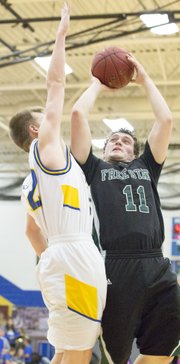 Free State boys vs. Olathe South
Box score
FREE STATE (50)
Tristan Garber 3-5 0-0 8, Blake Winslow 4-10 1-3 9, Cole Moreano 4-8 1-1 12, Keith Loneker 0-1 4-4 4, Weston Hack 0-2 0-0 0, Reshawn Caro 0-2 0-0 9, Justin Narcomey 0-2 0-0 0, Khadre Lane 4-11 8-10 17. Totals 15-41 14-18 50.
OLATHE SOUTH (64)
Ryan Collins 4-7 0-0 11, Matt Allen 2-3 2-3 6, Jayden Davis 2-2 0-0 6, Zack Fields 1-1 1-2 3, Taylor Filbert 5-7 0-1 13, Noah Knight 4-8 7-10 16, Matt Blessent 0-0 0-0 0, Brian Sullivan 4-5 1-1 9. Totals 22-33 11-17 64.
FSHS 7 19 10 14 — 50
O-South 11 14 15 24 — 64
Three-point goals: Free State 6-16 (Moreano 3-6, Garber 2-3, Lane 1-2, Caro 0-2, Narcomey 0-2. Loneker 0-1); Olathe South 9-13 (Collins 3-6, Filbert 3-4, Davis 2-2, Knight 1-1). Turnovers: Free State 7, Olathe South 5.
-->
-->
Olathe — The deliberate, tempo-driven ways of Olathe South High, featuring 6-foot senior point guard Noah Knight, can suck the momentum out of an opponent.
Especially when the Falcons are knocking down shots like they did Friday night during a 64-50 Sunflower League boys basketball triumph over visiting Free State.
Knight, bound for Missouri-Kansas City, scored a team-high 16 points as Olathe South finished with a flourish. The Falcons, who outscored Free State 24-12 in the fourth quarter, shot a torrid 67 percent from the floor on the night (22 for 33). They made six of seven shots and convert 10 of 12 free throws in the final eight minutes.
"They move the ball well and shoot it well," Free State coach Chuck Law said of Olathe South (8-9). "They're a dangerous team when they shoot the ball that way.
"We had some success in the first half speeding them up a little bit with our press and getting some turnovers."
Free State (10-6) was led by 6-foot-4 senior Khadre Lane, an inside-out threat who led all scorers with 17 points, including 13 after halftime. Sharpshooting southpaw Cole Moreano, a 6-4 senior, had a trio of three-point hits and finished with 12 points for the Firebirds. Blake Winslow added nine points, and Tristan Garber finished with eight, including a pair of threes.
"We had a hard time scoring the ball in the second half at times, and it made it difficult to get your stuff press-wise, at times," Law said. "(Olathe South) made some nice adjustments, and when they have a player like that, a dynamic Div. I-type of point guard … (Knight) gets the ball in his hands, he knows how to play, and he gets his teammates organized.
"He's a load. He really is."
The Firebirds trailed 11-7 after the opening quarter before they outscored South 19-14 in the second period to seize a 26-25 lead at halftime.
Free State made six of seven field goals in the second quarter, including a pair of three-pointers by Garber, while the Falcons made five of eight — four of them threes — including a trio by Ryan Collins.
But Free State couldn't replicate its second-quarter fortunes after the break. They shot only 3-for-12 in the third quarter and 4-for-16 in the fourth to finish 16-for-42.
Copyright 2017 The Lawrence Journal-World. All rights reserved. This material may not be published, broadcast, rewritten or redistributed. We strive to uphold our values for every story published.