Photo Gallery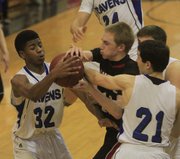 LHS boys vs. Olathe Northwest
Box score
LAWRENCE (57)
Justin Roberts 3-8 10-13 16, Connor Henrichs 2-3 2-3 7, Price Morgan 4-12 1-3 9, Ben Rajewski 1-2 0-0 2, Anthony Bonner 5-10 0-0 10, John Barbee 5-11 3-6 13, Anthony Riley 0-1 0-0 0. Totals 20-47 16-25 57.
OLATHE NORTHWEST (45)
Easton Koch 4-13 0-0 9, Evan Reid 1-1 0-0 3, Devin Anctil 2-3 2-3 6, Jaymond Kelly 0-5 2-4 2, Morgan Funk 3-3 4-4 10, Jon Selby 5-5 0-0 10, Justin Ward 2-3 0-1 5. Totals 17-33 8-12 45.
Lawrence 9 11 20 17 — 57
Olathe NW 10 10 15 10 — 45
Three-point goals: Olathe NW 3-11 (Koch, Reid, Ward); Lawrence 1-6 (Henrichs). Fouled out: Anctil. Turnovers: Olathe NW 18, Lawrence 4.
-->
-->
Olathe — Lawrence High's boys basketball team doesn't need much to get its offense clicking. On Friday night at Olathe Northwest, all it took was a long rebound and an active defense.
The Lions led by three points with under six minutes remaining when junior John Barbee tracked down a missed shot and put it back for a layup. After the Ravens missed two free throws, the Lions forced three consecutive turnovers on defense and dominated the rest of the way in a 57-45 victory.
"We were just waiting to get some momentum going," LHS coach Mike Lewis said. "I figured we got a few of those long rebounds, get a steal and get a layup going, and that's who we are. We had to earn those baskets tonight."
Barbee's putback was the start of a 9-0 run throughout much of the fourth quarter. Junior Anthony Bonner followed Olathe Northwest's missed free throws with a layup of his own, before sophomore Justin Roberts pump-faked the defense and found a wide-open Barbee under the basket for a layup two possessions later.
"It was tough clicking, but in the second half we came out and got layups," said Barbee, who fell just short of a triple-double with 13 points, six rebounds and seven steals. "Our defense is what led to our offense."
The Lions (13-3) trailed midway through the third quarter before Roberts dribbled past his defender for a layup while drawing the foul, which sparked a 6-0 run. Barbee grabbed a steal on the next possession before senior Connor Henrichs launched a three-pointer to give Lawrence a 32-28 lead. Roberts followed by getting a steal and finding Barbee for a transition layup.
The Ravens (7-9) cut Lawrence's lead to three points in the final 30 seconds, but Bonner grabbed a Barbee miss and drilled a jump shot at the third-quarter buzzer.
LHS didn't turn the ball over in the second half while forcing nine turnovers.
"We finally picked up the intensity and started jumping passing lanes, doubling down on the bigs, and that helped a lot," said LHS junior Ben Rajewski, who grabbed two of the team's 14 steals in the game.
The Lions went to zone in the second quarter but came out of halftime with an aggressive man-to-man defense that caused fits for the Ravens.
"We wanted to kind of tweak things a little bit and see where we were at, try to mix things up a little bit," Lewis said. "I thought the guys responded well to what we were trying to do. We settled in to what we thought was going to be most successful and ran with it."
Roberts scored seven of his game-high 19 points at the free-throw line in the final three minutes.
The Lions ended Friday's game with ease, which came after they suffered their third defeat of the season on Tuesday in an overtime loss to Shawnee Mission Northwest.
"I think we all were kind of disappointed in the way how we played that game," Rajewski said.
"As a team, this just helps so much to bounce back."
The Lions will play host to Shawnee Mission North at 7 p.m. Tuesday.
Copyright 2018 The Lawrence Journal-World. All rights reserved. This material may not be published, broadcast, rewritten or redistributed. We strive to uphold our values for every story published.