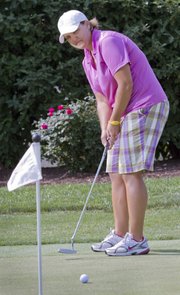 Well, it only took a hundred years, but the city of Lawrence finally has a female head golf pro.
Lawrence Country Club got its year-long, 100th-anniversary celebration off to a great start in promoting Kristen Samp from assistant to boss of the pro shop, replacing Jon Zylstra, now filling a similar role at Eagle Bend Golf Course.
After 11 years as a touring pro, including four on the LPGA tour, Samp came to LCC in 2009. Great stick, excellent teacher, wise move by LCC.
Samp has the unflappable nature needed to succeed competing in a wicked sport that loves to mock its participants. That trait will come in handy should any spoiled brats convinced the world is their servant happen to approach the pro-shop counter convinced it was her fault that they were dumb enough to put their vanity handicaps against sand-bagging snakes in the grass, losing the kids' college savings in the process.
A Class A teaching professional particularly skilled at turning lousy short games into competitive ones, Samp was the logical choice to replace the friendly Zylstra, the original Jay Z. But that doesn't mean she thought landing the job would be akin to knocking in a gimme putt.
(By the way, the next time someone lips out a putt and asks, "Is that good?" tell them what I tell them: "It is if you make it.")
Sure, it's the 21st century, but it's also the sports world, where change sometimes is spelled the way David Bowie sings it, "Ch-ch-ch-ch-ch-anges."
Lawrence has four-and-a-half golf courses and other tracks can be found all over the rest of northeast Kansas. Yet, Samp joins Jacqueline Madison of Meadowbrook Golf & Country Club in Topeka as the only female head pros in the region.
"Absolutely," Samp said when asked if she had concerns her gender would prevent her from a promotion. "I definitely heard some people say, 'We can't have a female.' A couple of people said it straight to my face. I don't have much experience with HR, but you're not supposed to say that, right?"
Recalling that gave her a good laugh and demonstrated she is not easily offended.
"I'm good at what I do. Take it or leave it," said Samp, who turned 40 Wednesday and recently was carded at my friend's liquor store when buying a bottle of wine. "My anatomy is what it is. I can't do anything about that one. I can do anything about anything else, but I can't change that one."
You don't progress as far in competitive golf as Samp did without having a great deal of composure. I golfed 18 holes with her and she didn't laugh once at either my swing or sartorial presentation. Now that's composure.
We played from the bronze tees, second-from-the-back, the ones the majority of male members prefer to play. Samp left a handful of putts within inches of the cup that day, just couldn't buy a break. She shot an even-par 70.
It will be interesting to see whether Samp's schedule allows her to continue to coach the Lawrence High girls golf team as she did the past two seasons. If not, she'll still be involved in growing junior golf. Alvamar director of instruction Paul Hooser is coordinating a collaborative effort with pros from all over the city designed at pumping life into the city's junior golf program. Samp is 100 percent on board.
Samp's competitive history makes her a credible advocate for LCC.
"These greens are great and that's what we're known for," she said. "I played in three U.S. Opens (Cherry Hills in Denver, Interlachen CC in Winter Park, Fla., and Newport CC in Newport, R.I.) and these greens are just as good as those, day in and day out."
LCC also recently announced that Rheanne Etken, a graduate of the University of Iowa and the Troon Golf Leader Program, has been hired as general manager. She has worked in Utah, Texas and Iowa.
Etken's hiring means Samp will be working for a woman. For the record, she doesn't have a problem with that.
Copyright 2018 The Lawrence Journal-World. All rights reserved. This material may not be published, broadcast, rewritten or redistributed. We strive to uphold our values for every story published.