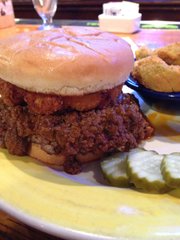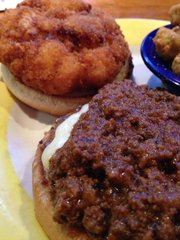 At quick glance, you might mistake the giant breaded patty as gargantuan onion ring. What you're really looking at is a layer of deep-fried mac and cheese on the Chili Mac Attack, a new creation at Bigg's BBQ .
In addition to the creamy, cheesy mac patty that arrives open face on one side of the bun, the other half layers a hamburger patty with pepper jack cheese and one scoop of chili. Essentially it's double the cheese, double the meat and one really decadent burger. Makes you wonder if "attack" has anything to do with your health following the meal.
Where to get it: Bigg's BBQ, 2429 Iowa St.
What you'll pay: $8.49, plus tax
Try it with: The burger comes with a side, but it seems you have everything you need in it already. Maybe corn on the cob or broccoli salad to get your vegetable intake.
Also on the menu: The good ol' fashioned BBQ favorites including baby back ribs (special deals on Tuesdays: full slab for $10.99; half for $5.99), BBQ chicken, combo plates with turkey, ham and brisket, and chicken-fried steak, tenders and meatloaf entrees. There are several salad options, and plenty of more classic burgers including a veggie burger. Finish the meal with one of their interesting desserts including chocolate bacon or white chocolate bread pudding.
Copyright 2018 The Lawrence Journal-World. All rights reserved. This material may not be published, broadcast, rewritten or redistributed. We strive to uphold our values for every story published.