Photo Gallery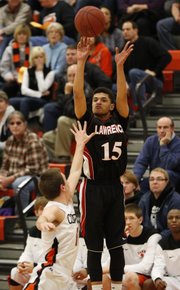 Lawrence High boys basketball v. Shawnee Mission Northwest
Images from Tuesday night's game between Lawrence High and Shawnee Mission Northwest.
Box Score
Lawrence (62)
Justin Roberts 6 7-9 23, Connor Heinrichs 2 2-2 8, Price Morgan 2 3-5 7, Ben Rajewski 1 0-0 3, Anthony Bonner 5 2-2 13, John Barbee 1 4-6 6, Anthony Riley 0 0-0 0, Logan Applegate 0 2-2 2. Totals 17 20-26 62
Shawnee Mission Northwest (63)
Jake Horner 3 2-4 8, Keaton Cross 5 1-4 11, Brady Skeens 5 8-14 18, Warren Specht 4 2-3 12, Andrew Medis 4 0-0 8, Dehven Talley 0 0-2 0, Spencer Cook 1 0-0 2, Brennen Strohm 2 0-0 4. Totals 24 13-27 63.
LHS 15 20 10 17 6 — 62
SMNW 14 16 16 17 7 — 63
Three-point goals: LHS 8 (Roberts 4, Heinrichs 2, Rajewski, Bonner); SMNW 2 (Specht). Fouled out: SMNW, Specht; LHS, Heinrichs.
Shawnee — It was another down-to-the-wire Sunflower League clash for the No. 2-ranked Lawrence High boys basketball team. Only this time, it went into overtime.
Shawnee Mission Northwest pulled out a 63-62 home victory over LHS Tuesday night after Cougars guard Jake Horner blocked a driving layup by Lions guard Justin Roberts with a tenth of a second remaining on the game clock.
Northwest's Dehven Talley set the stage for Horner's last-second swat after he missed a pair of free throws and LHS cleared the rebound with six seconds left.
"What I loved is that our guys were able to play that missed free throw exactly the way we wanted them to," LHS coach Mike Lewis said of the late overtime sequence. "We gained possession on the rebound, made a quick decision on the outlet and went right at them.
"That kid (Horner) came out of nowhere and made a great play on it."
Roberts, a silky-smooth 5-foot-9 sophomore guard, poured in a game-high 24 points, and 6-4 junior guard Anthony Bonner added 13 for LHS, which lost for only third time in 15 outings this season.
"I thought our guys really did play hard," Lewis said. "We really weren't quite ourselves offensively. I thought Shawnee Mission Northwest did a nice job of packing it in against us and we weren't able to move as freely as we have to.
"We did make some shots from the outside, but what stalled us was their good defense. We also took five or six possessions off and gave them layups, not getting back on defense, and it cost us the game."
Brady Skeens, a 6-6 senior forward, scored a team-high 18 points for Northwest. Senior shooting guard Warren Specht added 12 points and senior guard Keaton Cross put in 11 for the Cougars (12-3).
Having edged No. 4-ranked Shawnee Mission South at home last Friday night, 65-61, the Lions found themselves locked in another tight battle against Northwest.
At the end of regulation, Lawrence knotted the score at 56 on a pair of free throws by Price Morgan at the 1:39 mark.
Northwest wasted a couple golden opportunities in the waning moments of the fourth quarter after Morgan's foul shots. Skeens missed a pair of free throws with 54.2 seconds left, and after Horner and Bonner went up for a loose ball, the ball went off Bonner's fingertips and the Cougars got the ball back with 15.6 seconds left.
Lawrence's defense forced Cross to fire up an airball as time expired.
At the outset the four-minute overtime period, Morgan hit a layup off a slick Roberts feed for a 58-56 lead. Roberts later misfired from three-point range at the 2:35 mark, and after the Cougars spread things out, Skeen scored on a power move in the paint to give Northwest a 59-58 lead.
After Roberts missed in the lane, Horner, a 6-0 senior guard, nailed a driving layup on the other end at the 1:20 mark for a 61-58 edge.
Lawrence's Connor Henrichs converted one of two free throws with 50 seconds left to close the gap to 61-59. Shortly thereafter, Specht canned a pair of free throws to make it 63-60 before Bonner did the same on the opposite end with seven seconds left.
Talley then misfired on his foul shots, setting up Horner's late block.
Copyright 2018 The Lawrence Journal-World. All rights reserved. This material may not be published, broadcast, rewritten or redistributed. We strive to uphold our values for every story published.