Photo Gallery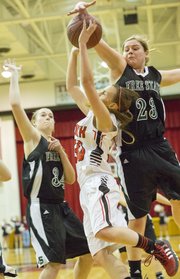 Free State girls basketball vs. Shawnee Mission North
Box Score
Free State (83)
Lauren Johnson 1-2 0-0 2, Adriana Jadlow 5-8 1-4 11, Hannah Walter 1-2 0-0 2, Scout Wiebe 6-10 0-0 12, Madison Piper 12-14 1-2 29, Millie Shade 6-11 0-0 12, Maren Kahler 0-0 0-0 0, Hannah Shoemaker 5-8 0-2 10, Naomi Hickman 1-1 0-0 2, Lexci Kimball 1-1 0-0 3. Totals 38-57 2-8 83.
Shawnee Mission North (51)
Jazmin Williams 3-4 1-2 8, Briana Farr 0-3 1-2 1, Jade Waldrup 0-4 1-2 1, Darian Dozier 1-4 1-2 3, Ashley Ross 6-12 4-5 16, Katlyn Hughes 1-5 0-1 2, Caitlin McNulty 2-3 4-5 8, Maddy Wood 1-1 2-2 4, Jolee Williams 1-2 0-0 2, Shelbye Sweet 1-2 4-5 6. Totals 16-46 18-26 51.
Free State 26 23 19 15 — 83
SM North 9 17 11 14 — 51
Three-point goals: SM North 1-7 (Williams); Free State 5-12 (Piper 4, Kimball). Fouled out: Kahler. Turnovers: SM North 26, Free State 18.
Overland Park — Free State High's girls basketball team started fast and never slowed down Tuesday at Shawnee Mission North.
The Firebirds sprinted to a 20-point lead in the first six minutes against SM North and kept shooting well on their way to a school-record 83-51 victory.
It was the most points scored in a game by Free State's girls basketball team in its school's history.
"It felt really cool because we came out with a lot of intensity and it really got us motivated to keep going," said junior Hannah Shoemaker, who scored 10 points and added five rebounds.
The Firebirds made their first five shots to jump to a 12-0 lead, as freshman Madison Piper scored 11 of her game-high 29 points in the first quarter.
"It was awesome," said Piper, who completed a double-double with 12 rebounds. "We came out aggressive. We came out ready to play. We moved the ball and everybody touched it. Everybody scored and that got us all going."
After Piper hit back-to-back three-pointers, senior Scout Wiebe made a jumper and junior Adriana Jadlow converted a layup while drawing the foul to give Free State a 22-2 lead with 2:32 remaining in the first quarter.
"There was just a different intensity level tonight in the gym," FSHS coach Bryan Duncan said. "The interesting thing is Shawnee Mission North is 5-7 coming in and has played nothing but close games all year. I think that was an unexpected situation, for sure."
The Indians (5-8) cut their deficit to 15 points midway through the second quarter before Free State (7-8) went on a 13-4 run over the next three minutes, with seven points from Piper.
The Firebirds shot 22-for-33 (66.7 percent) in the first half.
"I guess I just shot the ball, it went in and it boosted my confidence to where I was looking to score," said Piper, who shot 12-of-14 from the field.
SM North didn't get closer than 20 points in the third quarter, as Shoemaker started a 14-3 run over the last five minutes. Shoemaker made two layups in the stretch as senior Millie Shade also added four points.
It was a change from Free State's last game, when the Firebirds struggled to play with any discipline in the last two minutes in a loss to Shawnee Mission Northwest.
"We were not happy at all the way that ended Friday night against a very good team," FSHS coach Bryan Duncan said. "I think there was some carryover to that. That wasn't, 'Hey guys, good job, we played hard and competed.' I think our team was (upset) with the way that ended. I don't think there's any doubt there was a determination tonight based on that."
Shoemaker added: "Last game was kind of a hard defeat. We were kind of down about it because we definitely should have won. I think we could have played better, more as a team. I feel like tonight we got back on pace."
The Firebirds will travel to Olathe South on Friday.
Copyright 2018 The Lawrence Journal-World. All rights reserved. This material may not be published, broadcast, rewritten or redistributed. We strive to uphold our values for every story published.