Photo Gallery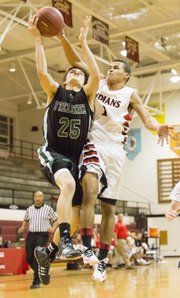 Free State boys basketball vs. Shawnee Mission North
Box Score
Free State (74)
Tristan Garber 1-1 4-6 7, Blake Winslow 8-12 5-9 21, Cole Moreano 6-11 3-4 17, Keith Loneker 1-2 3-4 5, Weston Hack 1-1 2-2 4, Reshawn Caro 2-4 0-0 4, Justin Narcomey 2-3 2-4 7, Khadre Lane 3-5 3-5 9. Totals 24-39 22-38 74.
Shawnee Mission North (61)
Marcus Weathers 5-9 1-1 12, Michael Weathers 9-17 0-1 18, Andrew McGinley 0-4 0-0 0, Scott Johnson 8-14 5-5 21, Jackson Hinton 2-6 0-0 6, Greg Sloan 3-4 0-0 6, Reggie Rivers 0-6 0-0 0, Isaiah Shields 0-1 0-0 0. Totals 27-61 6-7 61.
Free State 19 19 14 22 — 74
SM North 13 15 11 22 — 61
Three-point goals: SM North 1-8 (Ma. Weathers); Free State 4-9 (Moreano 2, Garber, Narcomey). Fouled out: McGinley. Turnovers: SM North 15, Free State 18.
Overland Park — Free State High's boys basketball players know they've lost a few leads in crunch time this season.
On Tuesday night at Shawnee Mission North, they showed that they can learn from their past mistakes.
The Firebirds saw their 13-point lead at the end of the third quarter over SM North shrink to five midway through the fourth. Instead of collapsing, they pushed back and won, 74-61.
"That was just kind of how we've been playing all year," senior Blake Winslow said. "We get up, get leads and then we kind of let teams back in. I think we get way too complacent and we've got to stop doing that."
SM North's Michael Weathers, who battled foul trouble for the entire second half, scored 10 points in the fourth quarter to cut Free State's lead to five points with 2:40 remaining. After the Indians missed their next shot, senior Cole Moreano drove down the lane for a layup to put Free State up 64-57.
Winslow, who scored a team-high 21 points, traded jump shots a minute later. With the Firebirds leading by six with less than a minute left, senior Khadre Lane sprinted past the defense for layups on back-to-back possessions.
"We got too conservative," Firebirds coach Chuck Law said. "Fortunately we had some guys that just decided they would grab it by the horns there late and make some plays."
Free State (10-5) started the second half on a 10-4 run, with Winslow scoring seven of those points.
"It seems like teams do a lot to stop Cole's three-point shooting, Khadre's ability to drive to the rack, so I don't usually have the best defenders on me," Winslow said, "and I'm able to take advantage of that pretty well."
Moreano, who scored 17 points and had eight rebounds, added: "At times with (Blake) and Khadre driving, and me outside, we can be a three-headed monster sometimes. We like to try and get everyone involved and (Blake is) good off the dribble and I'm pretty good behind the arc so it's a good pairing."
The Indians (5-9) forced eight Free State turnovers in the fourth quarter to begin their comeback bid.
"We got off to a good start in the third quarter and spread it out there a little bit," Law said. "We did get a little too conservative there in the fourth quarter, maybe that's partly me. They don't attack as much as we would like them too."
The Firebirds, who began the game without Lane who sat in the first quarter for disciplinary reasons, opened to a 9-2 lead after scoring on their first four possessions. Junior Weston Hack hit a jumper, Winslow made a layup and Moreano scored five points. Justin Narcomey and Tristan Garber later hit three-pointers to close the first quarter with a 19-13 advantage.
"You get a win in the Sunflower League, it doesn't matter who you're playing or where you are, you take it all the way to the bank," Law said.
The Firebirds will travel to Olathe South on Friday.
Copyright 2018 The Lawrence Journal-World. All rights reserved. This material may not be published, broadcast, rewritten or redistributed. We strive to uphold our values for every story published.