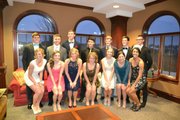 Some Lawrence High School students were out for a special night on the town Saturday when a random couple made the evening even more memorable.
The group of 25 close friends was at Genovese, 941 Massachusetts St., eating dinner before the school's winter formal Saturday. When the students went to pay their bill, they learned that a couple of strangers who had been sitting behind them had already picked up their tab. The man told the waiter he remembered how nervous he we would get before his own formal dances in high school and therefore wanted to make the teens' night a little easier.
"The kids were blown away!" said Denise Berland, whose daughter, Abbey, was among the lucky students. "They will never forget that night and we, as parents, hope that when they are able, they will pay it forward."
She noted that many of the students are on student council and were involved in organizing the dance.
"They had already put many hours into the evening to make it special for all of the students at LHS," Berland said. "What an amazing thing to happen to these kids — that someone did such a nice thing to make it more special to them."
Copyright 2018 The Lawrence Journal-World. All rights reserved. This material may not be published, broadcast, rewritten or redistributed. We strive to uphold our values for every story published.