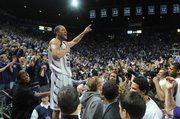 Manhattan — Kansas State freshman basketball standout Marcus Foster has studied the picture of Michael Beasley dancing on the Bramlage Coliseum scorer's table after the Wildcats' 2008 home victory over rival Kansas University.
"Me and Wes (Iwundu, freshman teammate) maybe have been talking about it, where we want one of those moments," Foster said after scoring a career-high 34 points in the Wildcats' 74-57 victory over Texas on Saturday in Bramlage — the place Miami Heat forward Beasley called home for one college season.
"Shane (Southwell, senior) was talking in the locker room how they beat KU (in 2011), and they rushed the court, and they got to stand on the scorer's table, and it was just an amazing moment," Foster added.
Wild celebrations have ensued the two times in the last 25 years the Wildcats have been able to defeat the Jayhawks in the Little Apple.
KU — which enters today's 8 p.m. Sunflower Showdown with an 18-5 record (9-1 in league) compared to KSU's 16-7, 6-4 mark — has won six in a row, 13 of the last 14 and 48 of the last 51 meetings against KSU, dating to the 1994 season.
"If our guys think the past score has something to do with the game, we'll get beat. We will," KU coach Bill Self said. His Jayhawks dumped KSU, 86-60, on Jan. 11 in Allen Fieldhouse. He is 22-3 vs. KSU in his 11 years at KU, while Bruce Weber is 0-4 against KU in his two seasons in Manhattan.
"I don't think anything that's happened in the past has much to do with anything," Self added.
Still, there are a lot of interesting tidbits regarding past performance entering this game.
KSU, for instance, is 13-1 in Big 12 play (29-2 overall) in Bramlage under Weber. The Wildcats' only league home loss was last year's 59-55 decision to the Jayhawks.
Also, the Wildcats have won eight of their last 11 games against ranked teams at home, including Texas (No. 15), Oklahoma State (6) and Oklahoma (25) this season.
Overall, KSU has won 12 in a row at Bramlage since a 60-58 setback to Northern Colorado on Nov. 8.
"I just think we've got a lot of youth. They kind of live off of this crowd, and they play well here," Weber said. "I said we needed some 'Bramlage magic' this weekend, and I hope it's there Monday night."
Self was asked if he enjoys trips to Bramlage more now that KU's other natural rival, Missouri, is in the SEC.
"I've always looked forward to playing in Manhattan regardless," Self said. "It adds to the rivalry a little bit with Missouri not being in the league because it (KU-KSU) is really the only main one (rivalry) left from an historic standpoint. I enjoy going there, and I think our players enjoy playing there because it's always a good atmosphere."
Third-year KU sophomore Jamari Traylor is 2-0 in Bramlage.
"We've got to do the same thing we did (in this year's win in Lawrence): get them off the boards, compete on defense and eliminate distractions, because they are going to have the crowd rocking. I know because it's always loud in there every time I've been there," Traylor said. "If we do that, I think we can win the game."
KU outrebounded KSU, 33-25, in the Jan. 11 meeting and held the Wildcats to 44 percent shooting — one of 11 from three.
Foster scored just seven points off 3-of-12 shooting.
"What bothered me was the scouted defense. I have never faced a scouted defense, so they scouted me very well," said Foster, 6-foot-2 from Wichita Falls, Texas, who averages 14.7 points a game. "They knew every move I was going to do. I also over-pressured myself about it. I forced the issue too much and was playing too selfish. I have to stay relaxed and keep playing how I play."
The game in Lawrence was intense, in which KU freshman center Joel Embiid was ejected in the second half for elbowing KSU's Nino Williams. Embiid had 11 points and nine boards before getting the boot.
"I mean, I don't really care. I'm just going to play basketball and try to get the win," Embiid said, when asked if he expects booing from the fans tonight. "It will be fun. We're going to go there and try to get the win."
"That was a long time ago. Joel has gotten a lot smarter," Traylor said. "People try to bait him into things sometimes. He's more mature. I don't think an elbow or anything like that will happen."
But what about the fans?
"They will definitely do that," Traylor said of booing and yelling insults at the 7-footer. "He should be able to handle it."
Of course, Embiid won't be the only object of the loud student section at Bramlage.
"I think they'll be pretty tough on all of us," said KU freshman guard Frank Mason.
Bumps, bruises: Embiid, who tweaked his back late in Saturday's home win over West Virginia, is expected to play tonight. "(He's) sore, but he practiced," Self reported Sunday night.
Looking for W: Second-year KSU coach Weber has a victory over every team in the league except KU. "Oh really?" Weber said when informed of that stat. "I thought last year we got tight here (in four-point loss), and then we went there, and we were all right for a while, and then they got going like they do with a lot of people (83-62). We probably just didn't have the bodies at Kansas City last year in the tournament (70-54 in Big 12 final). You get that third game, it's a knock-down, drag-out thing, and we just couldn't score enough points."
What's at stake? KU (9-1) has a two-game lead in the league standings over Texas (7-3), while Oklahoma is 7-4 and K-State and Iowa State are 6-4.
"They're a top-rated team. They're first in the league," Weber said "It's important. One, we're still fighting to get in the NCAA. What do we have, five top-50 wins? So we've done pretty well. We've still got several left that we're going to have challenges with, and they're one of them."
Self stated: "We are in a favorable position with a two-game lead. We go to Manhattan Monday. If we don't play well, you've got a one-game lead. Anything can happen. I'm happy where we are at but not satisfied."
Weber on KU's style of play: "I compare it to the Packers' old sweep. You knew it was coming. Can you stop it? You know what they're going to do. Do we have the energy, the bodies, the excitement to stop it and we'll see Monday night.
"They just punked us inside, and then they started making shots (in Lawrence). They kind of did what we did to Texas, they did it to us at home. They got going. I don't think they're as good defensively as they were a year ago, but they're still so long and big."
Recruiting: Daniel Giddens, a 6-10 junior center from Wheeler High in Marietta, Ga., has narrowed his list of prospective colleges to KU, Arizona, Florida, Indiana, Georgia and Ohio State.
"Whenever a blue blood like Kansas offers, you have to listen," Giddens, the No. 18-ranked player in the Class of 2015, told Rivals.com. "The tradition there is so rich and the coaching staff there knows how to get you ready for the next level."
This, that: Embiid needs two blocks to tie Eric Chenowith for most blocks as a Jayhawk freshman. ... KU has won its last 11 games on ESPN Big Monday dating to the 2010-11 season when it lost at Kansas State, 84-68, on Valentine's Day. KU is 51-16 all-time on Big Monday, including 32-8 under Self. ... KU will play host to TCU at 3 p.m., Saturday.
Wayne Selden on tonight: "I feel we go in expecting the worst, expecting a hostile environment, expecting not to get any calls, expecting it not to go our way but battling through it."
Copyright 2018 The Lawrence Journal-World. All rights reserved. This material may not be published, broadcast, rewritten or redistributed. We strive to uphold our values for every story published.