Photo Gallery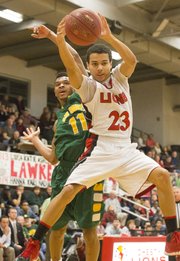 Lawrence High boys basketball vs. Shawnee Mission South
Box Score
SM South (61)
Ra'Keim Abdul 1-4 2-2 4, DeAngelo Bruster 9-16 1-4 19, Dainan Swoope 4-12 0-0 12, Devin Newsome 2-5 10-13 14, Nick Oliver 1-1 0-0 2, Hunter Ahrens 0-1 0-0 0, CJ Hill 0-3 2-2 2, Brian Harness 1-4 2-4 5, Ethan Kaplan 1-1 0-0 3. Totals 19-47 17-25 61.
Lawrence (65)
Justin Roberts 4-12 1-14 9, Connor Henrichs 1-3 3-4 5, Price Morgan 4-5 10-11 18, Anthony Bonner 4-12 7-8 16, John Barbee 1-9 7-10 9, Ben Rajewski 1-5 2-5 5, Anthony Riley 1-2 0-0 3, Logan Applegate 0-1 0-0 0. Totals 16-52 30-42 65.
SMS 11 15 12 23 — 61
LHS 15 14 16 20 — 65
Three-point goals: SMS 6-24 (Swoope 4, Harness, Kaplan), LHS 3-16 (Rajewski, Bonner, Riley). Fouled out: SMS, Swoope, Bruster; LHS, Roberts. Turnovers: SMS 11, LHS 10.
With two of the top four boys basketball teams in Class 6A squaring off Friday night inside Lawrence High's Jungle, every person in the gym expected an entertaining, free-flowing clash.
Most of the on-court combat came on the defensive side, though, and ultimately the game was decided at the free-throw line, where the No. 2-ranked Lions went 30-for-42 to survive their encounter with No. 4 Shawnee Mission South, 65-61.
The teams combined for 47 fouls, and although LHS (12-2) made 14 of its 20 fourth-quarter free throws, junior guard Anthony Bonner had to secure the victory with one last trip to the line with 2.5 seconds to play. He went 1-for-2, giving Lawrence a four-point lead and capping a 16-point, 11-rebound night for himself.
Bonner said one reason for the defensive intensity — Lawrence went 16-for-52 (30.7 percent) from the floor and SMS was 19-for-47 (40 percent) — was the familiarity between the Lions and Raiders (11-3).
"We've played against each other since we were in about fifth grade, so it's competitive," Bonner said. "It got chippy out there (SMS was whistled for two technical fouls in the second half), some words were thrown, but that's the kind of game I like."
The tone of the top-five showdown, he added, probably took a toll on both teams.
"We had to play hard on defense, because they had players who could match us," Bonner said. "We were losing our legs on our shots, but I thought we did great. Especially Price Morgan. I thought he had a great game."
No one took advantage of the foul-fest — LHS picked up 22 personals and SMS earned 27 whistles — more than Lawrence's sophomore forward. Morgan hit 10 of 11 at the foul line to finish with 18 points and five rebounds.
The Lions also had to find a way down the stretch to beat SMS without their floor leader, sophomore point guard Justin Roberts. He fouled out with 3:47 left in the game, and LHS up, 52-47.
But right after SMS senior guard Devin Newsome drew Roberts' fifth foul and hit two free throws, the Lions answered. Junior guard John Barbee (nine points, four assists, four steals) hit a cutting Bonner for a layup.
LHS coach Mike Lewis said finishing without Roberts (nine points, two assists) proved the Lions' depth.
"We've got seven, eight or nine guys who can come in on any given night and help us out," Lewis said.
Copyright 2018 The Lawrence Journal-World. All rights reserved. This material may not be published, broadcast, rewritten or redistributed. We strive to uphold our values for every story published.