Photo Gallery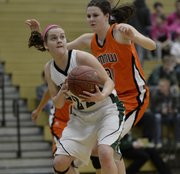 Free State girls basketball vs. Shawnee Mission Northwest
Box Score
Free State (53)
Adriana Jadlow 1-6 0-0 2, Hannah Walter 1-1 0-0 2, Scout Wiebe 7-16 6-8 21, Madison Piper 7-10 1-1 18, Millie Shade 3-8 0-0 8, Maren Kahler 0-1 0-0 0, Hannah Shoemaker 1-1 0-0 2. Totals 20-43 7-9 53.
Shawnee Mission Northwest (59)
Brooklyn Wagler 1-6 2-4 4, Arielle Jackson 6-16 1-2 18, Shelbie Mclain 5-7 0-0 15, Tatum Graved 6-10 2-2 14, Tracy Monahan 3-6 2-2 8, Amanda Hoelting 0-1 0-0 0. Totals 21-46 7-10 59.
SMNW 21 12 12 14 — 59
Free State 13 16 10 14 — 53
Three-point goals: SMNW 10-19 (Mclain 5, Jackson 5); Free State 6-19 (Piper 3, Shade 2, Wiebe). Fouled out: None. Turnovers: SMNW 10, Free State 16.
Free State High's girls basketball players didn't get beat by Shawnee Mission Northwest on Friday night at FSHS. They got lost.
The Firebirds, who were trailing for the entire second half, cut their deficit to two points when senior Scout Wiebe made a jumper with 2:47 remaining. Next, SMNW missed three consecutive free throws, but Free State turned the ball over and gave up an offensive rebound on a missed free throw.
The Cougars took advantage of the offensive rebound when they made the following two free throws for a four-point lead and the Firebirds couldn't get any closer in a a 59-53 loss.

"We had every opportunity to (win), and it was little things like we didn't box out on free throws, we didn't foul when we were supposed to," Free State coach Bryan Duncan said. "Honestly I think we were poorly coached tonight because they were poorly prepared for situations. We went over it in timeouts but it wasn't good enough. We didn't execute, so this is as frustrated and disappointed that I've been in a long time as a basketball coach."
Free State (6-8, ranked No. 10 in Class 6A) entered the fourth quarter down 45-39 but scored on its first two possessions, with a three-pointer and jumper by freshman Madison Piper. SMNW (9-5, ranked No. 7) responded with a 8-2 run before Piper scored on a layup, drew the foul and made the free throw.
"We kept playing and then all of sudden we fell apart," said Piper, who finished with 18 points. "Our defense, we only had certain people playing defense and it counts on both ends. You can't just play one end."
Wiebe, who scored a game-high 21 points, added: "We just didn't execute the last two minutes. We didn't really pay attention. We just kind of messed up on stuff."
Free State didn't take advantage of fouling or double-teaming late in the game when the Cougars had their post players handling the ball.
"The disappointment is we had an opportunity and a large portion of our kids seemed very indifferent on what the outcome of the game was," Duncan said. "I don't think that's the case, but that's what their body language and discipline showed. It's extremely disappointing."
Free State will head to Shawnee Mission North on Tuesday.
Copyright 2017 The Lawrence Journal-World. All rights reserved. This material may not be published, broadcast, rewritten or redistributed. We strive to uphold our values for every story published.