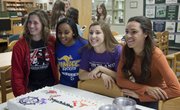 Four of Free State High's future Division-I athletes not only have to wait for their spring seasons to begin, but they also had to delay their signing day ceremony for two days.
Three girls soccer players, Madeline Dieker, Jessica Ferguson and Olivia Hodison, along with track & field heptathlete Alexa Harmon-Thomas, sent in their letters of intent to their future colleges on Wednesday, but school cancellations forced them to wait until Friday afternoon to hold their ceremony in the FSHS library.
"That was crazy," said Dieker, who signed with the University of Portland. "We ended up signing in our house (on Wednesday) like all of the other athletes did, but it was fun to come out today and have the community and all of our friends together to support us."
All of the girls said the rescheduling and cancellations were stressful, but it also had a positive effect.
"The snow day kind of put a damper on things because we had to keep pushing the celebration back," said Hodison, who will play for the University of Missouri-Kansas City. "I don't know, it made me appreciate this day a lot more."
Harmon-Thomas added: "I definitely was really excited for Wednesday, but it kind of stretched it out so that was really good."
With family, friends and coaches in attendance, the ceremony was an opportunity for all of the athletes to reflect on the road that led to a future in collegiate athletics.
"It feels wonderful," said Ferguson, who signed with Gardner-Webb. "It feels like all my effort and all this work has been going into this, and it's a relief to finally know where I'm going and that the work paid off."
For some Firebirds, signing also marked the end to a long recruiting process.
"It's kind of a weight off my shoulders not having to worry about it anymore and knowing where I'm going for sure," said Harmon-Thomas, who will compete for the University of Texas next year.
Though the girls can patiently wait for the spring season to begin, they were happy they didn't have to wait any longer for signing day.
"It feels awesome," Hodison said. "I've been waiting for this day for a really long time and I'm really happy I got it done."
LHS signees honored
Lawrence High held its signing day ceremony for four football players on Friday afternoon.
Zay Boldridge signed with Highland Community College, Alex Jones is headed to Pittsburg State University, Kieran Severa will play for Drake University and Kyle Wittman signed with Baker University.
Copyright 2018 The Lawrence Journal-World. All rights reserved. This material may not be published, broadcast, rewritten or redistributed. We strive to uphold our values for every story published.