Deicing salts have become a part of our winter lives. They make snow and ice removal easier and provide some measure of safety on our roads and streets. They can also be detrimental to vegetation and, if overused, are an environmental threat.
If applied sparingly and only when needed, minimal harm will be done. But excessive use can lead to an accumulation of the active ingredients, and this chemical buildup impedes the uptake of nutrients plants need for healthy growth and may not be noticed until late May or early June. By then we have forgotten the possible cause of our plant problems.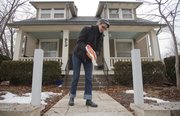 Deicers work by lowering the freezing point of water. They are most effective if applied, even sparingly, before the ice has formed and least effective, if at all, when spread over accumulated snow.
There are five major ingredients used in chemical deicers. These will be offered individually or as a mixture. They all work but some are more suited to a certain temperature and some are less harmful to vegetation.
• Sodium chloride (rock salt) is the original deicer. It is the cheapest, but it damages not only plants but also concrete and metal as well. It is effective down to 12 degrees F.
• Calcium chloride is rarely harmful to plants but produces a slimy surface on concrete and other hard surfaces. It is effective down to -25 degrees F.
• Potassium chloride damages not only plant roots but also the foliage from splash or overspray. It is effective down to 15 degrees F.
• Carbonyl diamide (urea) is a high-nitrogen fertilizer that can contaminate the ground and runoff water with high levels of nitrates. It is effective down to 21 degrees F.
• Calcium magnesium acetate (CMA) is a newer product combining acetic acid and dolomitic limestone. It is made to prevent snow from sticking to itself and the treated surface and has little effect on plants. It is effective down to 20 degrees F.
Shopping around indicates that four of these are available locally, ranging in price from 12 cents to 35 cents per pound. Three pounds will easily treat a normal driveway and the sidewalk, so cost is not a deciding factor.
There is an emergence of some liquid sprays with magnesium chloride and agriculture by-products. I did not find any of these available to the homeowner. The city pretreats with the liquid form, and after drying it becomes very effective as a pretreatment.
The old-fashioned way of removing what you can and then adding an abrasive such as sand or gravel remains the most environmentally friendly method of coping with the snow and ice. Using as little as possible of any chemical is always advisable.
If the splash or chemical-laden piles cannot be avoided, as on a major thoroughfare, plant choices may help. Salt tolerant choices include ponderosa and mugo pines, blue spruce, white ash, honey locust, Norway maple, sumac, willow, black locusts and red, white and bur oaks. Tall fescue and perennial ryegrasses are good turfgrass choices where salt may build up.
Copyright 2018 The Lawrence Journal-World. All rights reserved. This material may not be published, broadcast, rewritten or redistributed. We strive to uphold our values for every story published.