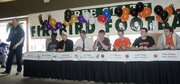 Seven Free State High football players turned in their letters of intent to their future colleges Wednesday, which was national signing day. Since school was canceled, they had to delay their signing-day ceremony to Thursday afternoon, but that didn't curb any of their enthusiasm.
"It was signing day, and on top of it we didn't have to go to school, so that made it even better," said Keith Loneker, who signed with Baker University.
Though there wasn't school on national signing day, that didn't mean the entire day was carefree.
Joe Dineen, who will play at Kansas University next year, woke up at 8:30 a.m. Wednesday and had problems with his fax machine. He had to take pictures of all of the signed forms with his cell phone and send them to KU's linebackers coach Clint Bowen.
"You get a little nervous when stuff doesn't send through, but it all worked out," Dineen said.
Thursday's ceremony at Alvamar Country Club celebrated the Firebirds' collegiate future, and it also signaled an end to some stress.
"I'm relieved," said Fred Wyatt, who signed with Northwestern University. "It's been a long process. I've been committed for a little over eight months. It's finally over with, and I don't have to deal with anyone calling or emailing or anything like that, so it's nice."
Three Firebirds are headed to Baker: Loneker, Lucas Werner and Blake Winslow.
"I've played with Blake for my whole life," Loneker said. "We've been best friends for a long time. Then getting to play with Lucas a lot last year, it feels good knowing that you're going into a spot with good players. You're going into a spot where you know you're going to be successful."
Werner didn't even know Winslow was going to be a future teammate until a few days ago, but is excited to play alongside a familiar face.
"I know I'm going to have a really good home feeling there, because I love the campus, but also because I'm bringing a couple of my teammates," said Werner, who will also throw javelin at Baker.
Khadre Lane and Reid Buckingham also signed. Lane, who entered the program two years ago when he transferred to FSHS, will play for Butler Community College, and Buckingham signed with Emporia State.
"It's something that I've been thinking about since the sixth or seventh grade, signing the letter of intent," Buckingham said. "It's definitely a relief, but it's also big excitement to finally be a college football player."
Copyright 2018 The Lawrence Journal-World. All rights reserved. This material may not be published, broadcast, rewritten or redistributed. We strive to uphold our values for every story published.