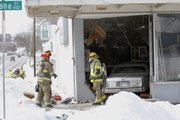 Art Gfeller peered out a window of his home Thursday afternoon to see if the large snowbank that had blocked the entrance of his Big G's Antiques store at 547 Indiana St. had been cleared. Upon first look, he said, he thought his store was fit for reopening after several days of inclement weather.
A closer look, however, revealed smoke billowing out of the gaping hole that was once a double-door entrance, a Cadillac stuck inside and Lawrence-Douglas County Fire Medical crews and police pulling up to the scene.
Fire Medical Division Chief Eve Tolefree said that the Cadillac's driver had a medical problem while driving westbound on West Sixth Street, causing him to hit a snowbank and careen through the store's entrance just before 12:40 p.m.
The driver, a 65-year-old Lawrence man whose name was not released on Thursday, was first taken by ambulance to Lawrence Memorial Hospital with nonlife-threatening injuries, Tolefree said.
The extent of the man's injuries and what condition caused him to crash was not released Thursday, but Sgt. Trent McKinley, a Lawrence Police Department spokesman, said the man was transported to a Kansas City-area hospital later Thursday afternoon.
Heavy smoke was initially seen after the crash, but Tolefree said no fire was present. Instead, she said, the smoke was caused by the driver "burning rubber" as his foot remained on the accelerator after crashing into the store.
Traffic in both directions on Sixth Street near the store was reduced to one lane as crews worked the scene. The Cadillac was eventually towed away by midafternoon, Tolefree said.
Gfeller said the store would have been open Thursday were it not for snow blocking much of the entrance.
The extent of the damage to the store was not yet known. Untouched during the crash, Gfeller said, was his prized porcelain Gulf Oil sign, which he said was worth $10,000 and which has been featured prominently in the store's east windows.
The incident was the second in four months at the store, which Gfeller said has been in Lawrence for 56 years and at its present location for 11. Big G's was burglarized in October when a 25-year-old Lawrence man shattered the front door and made off with about $3,000 in property. Zebulon Vaughn Jones Taylor was sentenced to two years of probation last month in Douglas County District Court for the offense.
Copyright 2018 The Lawrence Journal-World. All rights reserved. This material may not be published, broadcast, rewritten or redistributed. We strive to uphold our values for every story published.