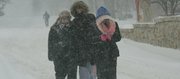 Baldwin — Stepping outside at about 11 a.m. Wednesday, Martha Wright weighed keeping Whitney's Hair Salon open for the day.
The salon closed Tuesday, when one of the worst winter storms in recent memory blew through northeast Kansas, dumping a foot of snow on Baldwin City. Wednesday dawned bright and clear with brutally cold single-digit temperatures.
"I have a perm coming in at 11:30," Wright said. "Sometimes we're busier in weather like this when people can't get to Lawrence or out of town. I think I will be open."
Wright said she would mull the decision while getting her mail across the street from her downtown shop.
There, she would find only locally delivered envelopes. Baldwin City Postmaster Joan Welch said the morning mail delivery truck from Kansas City was unable to make it to Baldwin. Her delivery drivers would deliver to as many patrons as possible in town and on rural routes, she said. To avoid being stranded in dangerously cold conditions, carriers would not attempt to deliver on rural roads that haven't been plowed, she said.
Welch asked that those with in-town and rural mailboxes clear a path to them once snowplows had cleared streets and roads.
"When carriers have 400 deliveries, it really slows them down when they have to get out and put mail in boxes," she said.
City crews worked late into the night cleaning streets, and those still on duty Wednesday morning were clearing snow from the curbs along High and Eighth streets and working their way to little-used residential streets.
Baldwin City Police Chief Grey Neis said there were no accidents Tuesday in the city, and none had been reported Wednesday.
Helping keep traffic off city streets Wednesday were decisions by Baldwin Superintendent Paul Dorathy and Baker University officials to cancel classes and activities for a second day.
Also closed again Wednesday were the Baldwin City Public Library and Baldwin City Recreation Commission, which canceled all activities.
Brothers Austin and Luke Braddock took advantage of the bad weather to make money, shoveling snow from Baldwin City sidewalks.
"We've hit four homes this morning," Austin said, catching his breath. "We have more this afternoon."
Copyright 2018 The Lawrence Journal-World. All rights reserved. This material may not be published, broadcast, rewritten or redistributed. We strive to uphold our values for every story published.