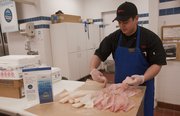 Get informed
Lawrence grocery stores rely on various agencies to define what seafood products are considered sustainable. They include the Monterey Bay Aquarium Seafood Watch program (seafoodwatch.org), FishWise (fishwise.org) and the Marine Stewardship Council (msc.org).
Especially if your store doesn't have a labeling system in place, the Merc's operations manager Brian Phillips suggests doing a little homework before you shop. The Monterey Bay program even has a pocket guide and smartphone app available for download on their website, Phillips said. Take it to the store and look up products by name of fish and country of origin.
— Sara Shepherd
Starting this week, Lawrence Hy-Vee customers will start seeing sustainable seafood offerings with signage marking them as a "responsible choice."
The move is one of the latest by grocery stores to increase the amount of so-called "sustainable" seafood they offer, and to make it easier for shoppers to see which products meet that criteria.
More and more customers are asking where the seafood they're buying comes from, said Marcus Ledesma, seafood manager for Hy-Vee at 4000 W. Sixth St. He's excited about Hy-Vee's goal of eliminating any seafood not considered sustainable from its stores by the end of 2015, an effort the chain formally announced in January.
"Everyone should care about sustainability," Ledesma said, "because if no one takes a stand on this we're talking about depleting the seas."
Unlike products labeled USDA Organic, for example, the definition of sustainable seafood is not concrete.
But generally, seafood considered sustainable is caught and farmed "with consideration for the long-term health of the environment and the livelihoods of the people that depend upon the environment," according to the National Oceanic and Atmospheric Administration. Sustainability takes into account the abundance of a species and whether it's harvested in ways that don't harm other marine life or the environment.
Various organizations have developed their own seafood rating systems, and grocery stores and restaurants look to them for guidance.
Among Lawrence grocery stores, the Merc, 901 Iowa St., was a front-runner in the sustainable seafood effort when it instituted a policy in 2009. The Merc's fresh and frozen seafood offerings include only products the Monterey Bay Aquarium Seafood Watch program has rated as best choices (coded green) or good alternatives (coded yellow), said store operations manager Brian Phillips. He said the Merc doesn't sell seafood Monterey Bay suggests avoiding (coded red).
Adopting the policy meant nixing the store's by-far No. 1 selling seafood item at the time, farm-raised Atlantic salmon, Phillips said. The wild-caught salmon they replaced it with — a better product but more expensive — caught on, though.
"It really resonated with our customers because we were paying attention to what was going on out there," Phillips said. "It's a little bit more money but the flavor's better, and if you feel good about it you're probably bound to buy more."
Most stores' sustainable seafood policies are not as restrictive as the Merc's. Hy-Vee's, for example, is guided by Monterey Bay ratings plus other criteria.
Checkers Foods, 2300 Louisiana St., does not have a policy on sustainable seafood, said Dawn Avery, deli manager and frozen seafood buyer. However, she said, Checkers does not have a fresh seafood case and only sells canned and frozen items from "reputable brands."
Labels indicate where the seafood came from and whether it's wild or farm-raised, Avery said. That helps consumers make choices based on what they think is important.
"There's a huge stigma related to imported products from Vietnam or China," Avery said. "And so a lot of people feel safer about fish from American waters, and they also want to help out the American fish industry."
Lawrence Dillons stores follow their parent company's guidance on sustainable seafood, spokeswoman Sheila Lowrie said. Kroger, according to its website, aims to source all of its top 20 wild-caught species from standard-meeting fisheries by 2015. The company is working to ensure its farmed seafood products also meet standards.
Copyright 2018 The Lawrence Journal-World. All rights reserved. This material may not be published, broadcast, rewritten or redistributed. We strive to uphold our values for every story published.