Photo Gallery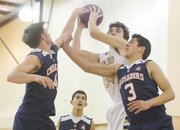 Veritas boys vs. St. Mary's
Eudora — Veritas Christian's boys basketball team erased a five-point deficit in the final minute and defeated St. Mary's Academy, 48-44, on Saturday.
Chad Stieben scored 15 points, Drake Napier scored 11, and Micah Edmondson and Mark Weinhold added seven points apiece for the Eagles. Edmondson had nine rebounds and Stieben four assists.
Veritas hit 12 of 16 free throws in the fourth quarter.
"Our kids played tough," Veritas coach Blake Mudd said. "We played good defense and took care of the ball. Even when we were down by five with a minute to go, they didn't give up. They stayed with it. We forced some turnovers. We really picked up the defensive intensity."
Veritas (10-8) will play Tuesday at Manhattan CHIEF.
St Mary's 11 11 9 13 — 44
Veritas 8 14 10 16 — 48
St. Mary's: Riccomini 2, O'Neill 4, Whitehead 13, Morgali 12, Holman 2, Mioni 11.
Veritas: Micah Edmondson 7, Chad Stieben 15, Drake Napier 11, Michael Rask 2, Miles Dressler 4, Winston Wiebe 2, Mark Weinhold 7.
---
Veritas girls 52, Christ Prep 41
Photo Gallery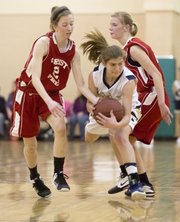 Veritas girls vs. Christ Prep
Tori Huslig scored 24 points and forced two late turnovers to help Veritas Christian's girls basketball team hold off Overland Park's Christ Prep Academy on Saturday.
Huslig led all scorers and double-doubled with 11 rebounds. Alyssa Krestan had 14 points and nine rebounds as the Eagles won the rebounding battle, 41-29.
"We got a lot of nice rebounds from our guards," Veritas coach Kevin Shelton said. "Controlling the boards was good; they were bigger than us."
Shelton also praised his team's press defense, which pressured Christ Prep into 19 turnovers — including two forced by Huslig late in the fourth quarter after the Eagles' lead had been cut to one.
Veritas (9-8) will play Tuesday at Manhattan CHIEF.
Christ Prep 8 11 9 13 — 41
Veritas 10 16 13 13 — 52
Christ Prep: Alisha Frierdich 6, Mackenzie Lewis 20, Julie Davis 1, Meagan Dunbar 2, Teana Carlton 8, Catherine Valz 4.
Veritas: Hannah Gloss 5, Alyssa Krestan 14, Macie Dressler 4, Ashley Boland 5, Tori Huslig 24.
Copyright 2018 The Lawrence Journal-World. All rights reserved. This material may not be published, broadcast, rewritten or redistributed. We strive to uphold our values for every story published.