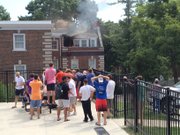 Investigators determined that improperly disposed of smoking materials caused a Tuesday fire at the Sigma Chi fraternity house, 1439 Tennessee St., Lawrence-Douglas County Fire Medical Division Chief Shaun Coffey said Thursday.
Just after 11:30 a.m. Tuesday, firefighters responded to a call of smoke on the third floor on the house. By 11:45 a.m., smoke and flames were seen coming out of the southwest side of the house.
Members of the fraternity said the area affected held a bathroom and bedrooms.
The fire caused an estimated $150,000 in damage, Coffey said. Flames were contained to the third floor, but Coffey said the lower floors sustained some water and smoke damage.
Ten firefighting units responded to the fire, Coffey said. The 74 residents of the home were not allowed to reenter the house until 6 p.m. Tuesday.
Coffey said he did not know what type of smoking materials caused the fire.
Copyright 2018 The Lawrence Journal-World. All rights reserved. This material may not be published, broadcast, rewritten or redistributed. We strive to uphold our values for every story published.