Photo Gallery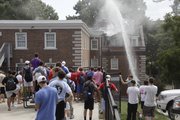 Crews fight fire at Sigma Chi fraternity
Firefighters responded to a fire at Sigma Chi fraternity house, 1439 Tennessee St., just after 11:30 a.m. Tuesday.
Crews had the fire under control by 12:30 p.m. and out by 1:30 p.m. No injuries were reported.
Earlier, smoke and flames were coming out of the southwest side of the house after reports of a fire on the third floor. Members of the fraternity said the area affected held a bathroom and bedrooms.
Lawrence-Douglas County Fire Medical Division Chief Shaun Coffey said 10 firefighting units responded.
Rueben Perez, director of Kansas University's Student Involvement and Leadership Center, said the fraternity, which houses 74 residents, was lucky the fire happened during the day. Tuesday was the second day of classes at KU.
"Fortunately, with it being during the day, most of the students were out of the house and in classes," Perez said. "I know the president is telling them now that unless this was your room, go to class."
Tennessee Street from 14th to 17th streets was closed as firefighters investigated but reopened at about 2 p.m. The cause of the fire has not been determined.
Copyright 2018 The Lawrence Journal-World. All rights reserved. This material may not be published, broadcast, rewritten or redistributed. We strive to uphold our values for every story published.