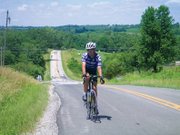 Comrades of a bicyclist killed earlier this month outside Lawrence have planned a ride paying tribute to him in Topeka.
Cal Melick, 66, of Lawrence was killed Aug. 13 after being struck by a pickup truck while cycling in the 800 block of North 950 Road. Melick was a longtime member of the Kaw Valley Bicycle Club and worked more than 30 years at the Mabee Library at Washburn University.
The memorial ride, organized by the bike club, is set to begin at 9 a.m. Saturday at the front steps of the library, located on the Washburn campus, 1700 S.W. College Ave. in Topeka. The 10-mile, slow-paced ride is envisioned for cyclists of all ability levels.
Fellow cyclists and library workers alike remembered Melick as steady, reliable and methodical.
"He was the rock upon which all of our programing and efforts to promote student success were built, because his dependability meant never having to worry about the daily operations of our front-line reference services," Washburn dean of libraries Alan Bearman said in a news release about the ride. "He was without any question the face that everyone expected to see when they entered through the front doors." 
Copyright 2018 The Lawrence Journal-World. All rights reserved. This material may not be published, broadcast, rewritten or redistributed. We strive to uphold our values for every story published.