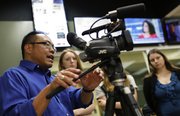 -->
Although it might be in dry-erase marker for now, Brett Akagi has already made his mark on student media at Kansas University.
On a white board in the combined newsroom of the University Daily Kansan and KUJH-TV, Akagi has posted mottoes for everyone, including himself, to remember and do their work by.
"Try and fail," reads one. But Akagi has made sure everyone knows that it's not OK to simply fail and let that be the end. Underneath the previous motto is a follow-up: "Fail and learn."
In descending one-word lines, another reads: "Adapt. Overcome. Persevere." Another: "Small victories."
The mottoes are there to remind everyone in the newsroom that their work is hard, expectations are high and perfection elusive.
"It's important for these kids to understand," Akagi said. "I push them really, really hard."
Akagi joined the KU School of Journalism in summer 2013 as director and digital content strategist for KU's student media operations. When he joined, he was tasked in large part with pushing KU's student paper and television station ever further into a digitized, multi-platform and often chaotic media landscape.
Akagi brings to the job decades of multimedia experience from the field. Over the course of his career he's worked in radio, television and newspapers, and he's won dozens of accolades along the way. Prior to joining KU, he served as director of photography for KARE-TV in Minneapolis, senior video producer with the Minneapolis Star Tribune and assistant news director for KSHB-TV in Kansas City.
Multimedia push
Akagi's position at KU didn't exist before his hire. His job combines management of KUJH-TV with the faculty adviser role at the Kansan, which journalism professor Malcom Gibson had filled until his retirement in 2013. With experience in both television and newspapers, Akagi looked like the perfect fit.
Scott Reinardy, a KU associate professor of journalism and chairman of the school's news and information track, said of Akagi when he was first hired: "He clearly understands the needs of TV news and newspapers, the specialization of each and the intersection of the two."
Like media organizations everywhere, KU's student media are still trying to find their footing in a world that is more online than ever. To help build up the Kansan's online audience, Akagi has been pushing students to shoot more video, take more photographs, post on social media more often and respond quickly to breaking news.
Trevor Graff, editor-in-chief of the Kansan in fall 2013, Akagi's first semester, said many student reporters were uncomfortable working with both words and video at the time.
"Brett and I sat down, and it was very clear to both of us at the time, with the media climate shifting more and more digital, the Kansan especially needed help in the multimedia facets of our coverage," Graff said.
Challenging students
Chatting with students in the newsroom, Akagi, with his energy and a laugh Graff says can be heard down the hall, could be mistaken for a college student himself. That doesn't mean students mistake him for a buddy.
Those who have taken classes with Akagi say he can be a tough critic of their work, but it's made them better.
"He was always challenging us with how we can make (stories) better," said Amelia Arvesen, a KU undergraduate who took a reporting class with Akagi. "Instead of just telling us what to do he would ask us, 'Well, what do you think?'"
Riley Mortensen, also a KU journalism undergraduate who took Akagi's reporting class, said of Akagi, "If you've done something really bad, he will say, 'It sucks, and you know it, and I know it, and everybody knows it.'"
"He says it so you can make it better next time. He's not just trying to be mean," Mortensen added.
Akagi said he understands the difficulty for students in multitasking and the frenetic pressure of the newsroom. But he also understands the pressure of professional newsrooms from his work in the field.
Even before going into journalism, Akagi said, he developed a work ethic and high expectations from his parents, who both grew up as children of Japanese immigrants in eastern Colorado.
Watching his parents devote themselves to their business and family, and working on the family farm himself while growing up, gave Akagi an appreciation of sacrifice and work. He would leave the farm for college, thinking at first he wanted to be a radio DJ but eventually drifting into the news business, where he stayed until coming to KU.
As a reporter and producer, Akagi was on the front lines covering breaking news, murders and other tragedies. He's met vice presidents and professional athletes.
Now he's left that life to train the next generation of journalists.
It's something Akagi said he feels responsible to do with his experience at this point in his life.
"I want to make sure I can do everything I can for this school and these kids," he said.
Copyright 2018 The Lawrence Journal-World. All rights reserved. This material may not be published, broadcast, rewritten or redistributed. We strive to uphold our values for every story published.