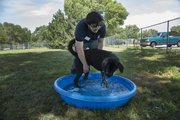 Staying cool amid 90-degree days can be hard enough for humans, but imagine what it's like for your furry pet.
The National Weather Service in Topeka forecasts temperatures reaching a high of at least 92 degrees for the next four days. Here are some things to keep in mind when your furry friend steps outside:
1. Don't leave it in a parked car.
According to the Humane Society of the United States, a warm day can send the temperature inside a parked car to 120 degrees in minutes, even with windows cracked. A pet can quickly suffer brain damage or die from a heat stroke or suffocation at that temperature.
2. Don't take your dog on a run.
Jennifer Stone, the Lawrence Human Society's medical director, said the kind of heat Lawrence has experienced recently is too warm for dogs to exercise in.
"(Dogs) are much more prone to (heat exhaustion) than people are," she said. "I would really encourage people to be very careful about jogging with their dogs even when it's a little hot outside because it can happen so fast."
3. If outside, shade and fresh water are a must.
Stone said pets should be kept under careful supervision when temperatures reach 85 degrees or higher. If they are outside, a pet should always have access to shade — keep in mind that shade moves with the sun — and fresh water.
For outside-only dogs, Stone recommended placing a child's swimming pool nearby as a drinking and cooling-off resource.
The HSUS also advises that doghouses do not provide relief from heat.
"With the weather we're having right now, I wouldn't leave my dog outside for more than 10 minutes at a time," Stone said.
4. Monitor the warning signs.
Signs of heat exhaustion, according to HSUS, include difficulty breathing, laziness, extremely red gums, hot skin, heart racing, muscle spasms and vomiting.
Especially vulnerable animals include ones that are quite old or young, overweight or have heart or respiratory disease. Some breeds of dogs — such as boxers, shih tzus and other dogs or cats with muzzles — will have a much harder time breathing in heat.
5. Respond to the signs.
The first thing to do, Stone said, is to get an animal into an air-conditioned environment. Wipe the animal down with cool — not cold — water and put it in front of a fan. Offer cool water to drink, take its temperature and then take it to a doctor immediately.
Copyright 2017 The Lawrence Journal-World. All rights reserved. This material may not be published, broadcast, rewritten or redistributed. We strive to uphold our values for every story published.