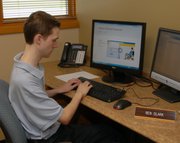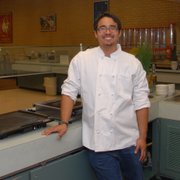 Get involved
Project Search administrators are forming a Business Advisory Council to extend internship opportunities and identify potential employment options throughout the community. If your company or organization is interested in getting involved, contact Angie Loving at KU's Human Resources Office at aloving@ku.edu.
The transition from the safe environment of high school to the realities of the working world can be rough for anyone, but add a developmental disability and the road to the real world can be that much bumpier.
To help navigate that path, one local program soon will begin its fourth year steering some young people with special needs toward independence and fulfillment.
Project Search, started in Lawrence in 2011, is a collaboration among Lawrence public schools, local businesses and social service agencies such as Job Link. The groups work together to find permanent jobs for recent high school graduates with developmental disabilities.
The program is modeled after the original Project Search, which was created at Cincinnati Children's Hospital Medical Center in 1996.
Project Search participants begin the year-long program in August with a two-week orientation program, then they go into the community for their first internships at participating businesses and organizations such as Kansas University and Lawrence Memorial Hospital.

Students start each day by learning employability skills from a Project Search instructor made available through Lawrence schools, and then begin tasks at their worksites. The students spend the next four hours on the job before regrouping in the afternoon to review what they've learned.
Tracey Norris, a Project Search instructor with Free State High School, said the students change internships three times throughout the year so that by the end they have developed a broad skill set, new interests and a strong belief in themselves.
New attitude, dreams
Steven Thawngmung finished the program this spring with not only a job offer, but also a new attitude.
"I've been through a lot because of how others view my disability," Thawngmung, 20, said. "I've struggled with depression and self esteem, but Project Search gave me confidence and helped me be happy with life in general."
Like all the other 2014 Project Search graduates, Thawngmung landed full-time employment after completion, according to Angie Loving, assistant director of Human Resources at Kansas University, who works with Project Search.
One of Thawngmung's internships included working in food service with KU's dining facility at Oliver Residence Hall, where he was hired upon completion of the program.
"I always had a passion for cooking," Thawngmung said, "I just never thought it could be a career for me before Project Search."
Thawngmung said the experience has inspired him to reach for more, dreaming of opening his own "community outreach restaurant" where he said he would offer "discounted prices for people at or below the poverty line."
"I'm really interested in helping people. I'm just another person and I want to be treated like that," Thawngmung said, "I want to give people a place where they can feel accepted and loved by people around them like I do now."
Opened doors
Lawrence resident Carolyn Clark's son Ben just completed the program with Thawnmung in May. She said that Project Search has opened doors for her son that she'd wished for him all along.
"As your child gets to the end of high school, you get nervous," Clark said. "You want your child to have a full life, you don't want them to be alone and isolated."
Ben now works for the accounting firm Summers, Spencer & Company, P.A., filing and scanning papers and helping with office activities. Clark said she's so proud of how far Ben has come.
"I told my son's coworker that I'm pinching myself because he's so happy," Clark said. "Every parent wants their child to be an active member of society with fulfilling work."
Dale Smith, a zone manager for KU's Facilities Services who was a supervisor to a Project Search student this past year, said the program is a win for both the students and businesses.
"From an employer's standpoint, this wasn't a donation or feel-good type of thing," Smith said. "We consider this a resource for high-quality employees. We can't wait to get our next one."
Copyright 2018 The Lawrence Journal-World. All rights reserved. This material may not be published, broadcast, rewritten or redistributed. We strive to uphold our values for every story published.