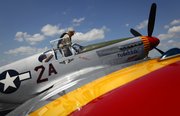 A rare World War II aircraft stopped in Lawrence Monday, with an even more rare sight in the cockpit.
Lawrence native Bill Shepard is one of only two black men in the country currently piloting P-51 Mustang airplanes, he said. He's a volunteer pilot for the Commemorative Air Force Red Tail Squadron — an organization aimed at sharing the story of the Tuskegee Airmen, the black pilots most famous for their success flying Mustangs in WWII.
Shepard performed in an air show in Colorado Springs last weekend. On his way home to Canada, where he lives and works as a director for a mining company, he made a "strategic fuel stop" in Lawrence to visit his three brothers and father, former Douglas County undersheriff Bill Shepard Sr.
Being a black pilot charged with keeping the Airmen's legacy alive "touches home," Shepard said. "It's really something you can't put words to."
At the same time, he said, color has become far less important than the Airmen's accomplishments and simple message of perseverance. They fought to be accepted into the military's flight program, then proved themselves by being exceptionally good at their jobs and building a record of success.
"They were able to persevere and rise above the challenges," Shepard said.
The plane Shepard flies is a rare C model Mustang, recognizable for its razorback-style fuselage — the top extends straight back from the glassed-in cockpit, whereas more common models' cockpits protrude up like a bubble.
Built in the early 1940s and later restored, Shepard's plane bears the name "Tuskegee Airmen" painted on the nose in blue and red. Also in red script is "By ReQuest," a tribute to the requests the accomplished Airmen received for their protection on combat missions, he said.
The plane's engine growled and its propeller whirred as Shepard fired it up for takeoff Monday afternoon at Lawrence Municipal Airport. Sun glinted off its wings as Shepard gained altitude and steered north.
Lawrence resident and plane enthusiast Chuck Watson stopped by to catch a glimpse of "Tuskegee Airmen."
Watson said he loved the plane's roaring engine, not to mention its history.
"It's an extremely rare bird," he said. "We couldn't have kept fighting the war without these."
Lawrence has ties to another Mustang, a P-51D owned by Lawrence resident and airplane collector Steve Craig. Craig's plane, named the "Flying Dutchman," previously was located here but now is in California, where he has another home, he said.
Craig also heard Shepard's Mustang was in town and visited the airport to check it out.
"It is really tremendous when you see them because they represent such a rich part of history," Craig said. "Seeing them fly is all the difference."
Copyright 2018 The Lawrence Journal-World. All rights reserved. This material may not be published, broadcast, rewritten or redistributed. We strive to uphold our values for every story published.