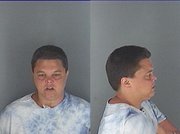 Lawrence police on Friday morning asked for the public's help locating a motorist who might have given a ride to a suspect in the apparent July homicide of Christine Kaplan, whose body was discovered July 26 in her home in the 1100 block of New York Street. By this afternoon the driver had come forward and provided information to police.
Investigators continue to want to talk to anyone who may have spoken with or given a ride to Angelica Marie Kulp, a suspect in the case, over the past several weeks, said Sgt. Trent McKinley, police department spokesman. Kulp is in the Shawnee County Jail on an unrelated charge. Police say Kulp will be brought to Douglas County to face charges of first-degree murder after her Shawnee County case is resolved.
McKinley said Kulp, who was without a vehicle of her own, often asked people for rides. Police released photographs of a car, saying that detectives think the driver of the car gave Kulp a ride to Dillons on Massachusetts Street on July 22. That driver talked to police investigators Friday, McKinley said.
In an interview with the Journal-World, Lawrence resident Hilda Enoch said it was common for Kulp to need help with transportation. Enoch said she gave Kulp a ride home from services at the Lawrence Jewish Community Center on July 25, just one day before Kaplan's body was found.
"She used to stay with me a little while," Enoch said. "She was fine. She just needs someone around."
In an earlier press release, McKinley said Kulp may have been staying with Kaplan before the murder occurred.
Henry's Coffee Shop manager Ryan Shelton said she had last seen Kulp about a week and a half before Kaplan's death. Shelton said Kulp used to hang out in the outside patio area of the Henry's, but was acting up recently.
"I asked her to take a break from the shop," Shelton said. "She was making customers uncomfortable."
Anyone with information is asked to call the police department at 832-7509.
Copyright 2018 The Lawrence Journal-World. All rights reserved. This material may not be published, broadcast, rewritten or redistributed. We strive to uphold our values for every story published.