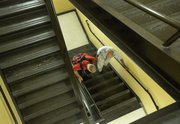 Photo Gallery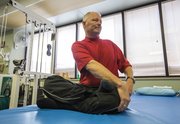 Rick McNabb's Mount Everest challenge
Rick McNabb doesn't want this story to be about him.
He wants it to be about the therapists and volunteers who have helped him recover from a brain aneurysm and subsequent stroke. He wants it to be about the disadvantaged youth he works with at his basketball clinics in Lawrence. He wants it to be about the people who volunteer their time to help him put on the camps.
But when you're climbing the height of Mount Everest over 100 days, four years after a stroke left you mostly paralyzed on the left side of your body, it's hard not to be the focus of attention.
Almost every day for the past several weeks, the 54-year-old has been at Lawrence Memorial Hospital, climbing about 1,000 steps daily in the hopes of reaching 49,724 by Sept. 26. He's doing it not only to help with his recovery, but also to raise funds for his basketball camps and an upcoming trip to Uganda, during which he will train youth mentors in leadership and athletic skills.
"He's the classic example of what rehabilitation can do if you stick with it," said Sam Porritt, a Lawrence marketing consultant who has been rehabbing alongside McNabb at LMH as he recovers from a fall he suffered in 2011.
One day in April 2010, McNabb got up from the couch at his Lawrence home, only to fall flat on his face. He was life-flighted to an intensive care unit in Topeka, where he spent the next three weeks recovering from a brain aneurysm and stroke.
"They had to drill two holes in my head to drain the blood," McNabb said, recalling that he looked like Bozo the Clown, with his head shaved in the middle and a tube sticking out of it.
One of the first goals of his rehabilitation, which he did at LMH, was to be able to climb the stairs again at the Jazzhaus in downtown Lawrence. So his physical therapist took him to the hospital staircase, and they got to work. He later found out about a Mount Everest stair-climbing challenge on the Internet and decided to give it a try himself.
After his aneurysm, McNabb, a longtime youth basketball coach with four adult children, started 4 Square Athletics, which provides sports and leadership training to youth groups in Lawrence. He plans to take the initiative to Uganda in September, where he will teach the skills to local youth mentors. He is raising funds for the trip in part by asking people to sponsor him for a given number of steps on his Mount Everest challenge.
Six days a week at LMH, McNabb parks his wheelchair at top of the fourth-floor stairwell and straps on a backpack carrying his cane; attached to the backpack is an index card listing the heights of the various milestones on Mount Everest. He then takes the elevator down to the lower level and starts his climb.
To motivate himself, McNabb has placed a picture of Mount Everest at the top of each flight of stairs; at the last one are photos of the summit. Next to one of the pictures, someone has placed a Post-It Note that says, "Way to go, Rick! Bravo!"
Along the way, McNabb has inspired several LMH employees to start taking the stairs, thinking that if he can do it why can't they. Hospital employees see him so much some have mistaken him for an inpatient.
In the stuffy stairwell, McNabb holds on to the railing with his right hand and maneuvers his cane with his left, looking down as he takes each step to see where his left leg is going. After a few steps, he gets into a rhythm, usually reaching the top floor in three to five minutes. He repeats this a few more times before taking a break by doing physical therapy or volunteering in the hospital's rehab unit.
"He's always setting goals for himself," said Jerry Waugh, a retired Kansas University basketball and golf coach and LMH volunteer who often accompanies McNabb on his stair climbs, entertaining him with quotes from legendary KU basketball coach Phog Allen, who Waugh played under at KU.
"I just want to get better and get stronger. The ultimate goal is to really get out of that chair," McNabb said, sweating and breathing heavily at the top of the stairs after a recent climb. "But this is bigger than me. It's a lot bigger than me."
Copyright 2018 The Lawrence Journal-World. All rights reserved. This material may not be published, broadcast, rewritten or redistributed. We strive to uphold our values for every story published.