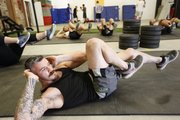 Two mixed martial arts events have been held in Lawrence during the past six months, but local MMA fighter Zak "Crash" Bucia was not aware of them until shortly before they took place.
To help increase the popularity of MMA in his hometown, Bucia took matters into his own hands and started up Omni Method Gym at 721 E. Ninth St. He's also competing in a big fight of his own Saturday in San Francisco.
The 2003 Lawrence High alumnus will try to defend his Dragon House welterweight belt, which he won in August 2012 against Wayne Phillips in the 170-pound division.
Bucia is 11-5 overall and 3-3 in sanctioned fights but has not competed in more than a year. However, he is confident going into the fight and is encouraged by his last few weeks of training.
"My conditioning has been really good. My weight is in a really good place," Bucia said. "I'm dropping weight in a way that I still feel like I'm really healthy. I've got a lot of energy still."
The 29-year-old Bucia will look to defend his title against 34-year-old Mauricio Alonso, who is 7-1 overall and 1-0 in sanctioned fights. Alonso hails from Brazil and used to train with MMA phenom Anderson Silva.
"He came up here, and now he's training with Gilbert Melendez's camp in the Bay Area," Bucia said. "I've seen him fight before. He's really aggressive and really big, too."
Alonso stands at 6-foot-2, four inches taller than Bucia, but "Crash" said the height differential won't be a disadvantage to him as long as he remains focused on "making sure that I am more comfortable than he is — as far as the way that he cuts and stuff like that — and coming in in top-notch shape because it's going to be a five, five-minute-round fight.
"I need to make sure that I don't back straight up like a lot of his opponents," Bucia added. "I think a lot of people kind of get intimidated by his aggression and the fact that he's this Brazilian black-belt guy."
Bucia has been doing the majority of his training for Dragon House 16 at Omni Method, which had its grand opening March 29. Bucia co-owns the gym along with Scott McGreevy and Matthew Siahaan.
McGreevy, a triathlete and marathoner, did not know Bucia before they started putting plans together to create Omni Method but said that "Crash" has been great to work and train with.
"He just brings a passion for just being in a gym environment," McGreevy said. "What is good about Zak is that he kind of practices what he preaches. He is an athlete himself. He's been groomed to kind of run a place like this."
Before starting Omni Method, Bucia and Siahaan had a small workout space called "The Program," located in Holiday Plaza. Siahaan, also an LHS alumnus but from the class of 2009, had followed Bucia's MMA career and wanted to help develop the sport in Lawrence.
"He's kind of a name on the scene a little bit, so I knew of him," Siahaan said. "I knew he was from Lawrence. I just kind of got hold of him and was like, 'Do you want to try to start something?' And he was like, 'Yeah, let's do it.'"
A victory against Alonso in the Dragon House 16 main event would further establish Bucia's name in the MMA ranks and mean that "Crash" could be on a collision course with the Ultimate Fighting Championship scene.
Dragon House 16 is scheduled to start at 6 p.m. CDT Saturday, with Bucia's fight anticipated to take place sometime between 7:30 and 8 p.m. Bucia's fight will be broadcast via pay-per-view online on www.dragonhousemma.com and also will be shown on a projector screen at Omni Method.
Copyright 2018 The Lawrence Journal-World. All rights reserved. This material may not be published, broadcast, rewritten or redistributed. We strive to uphold our values for every story published.