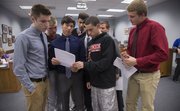 There was a time when scenes like the one that unfolded Monday night at the regular meeting of the Lawrence school board happened every week around here.
Such scenarios did not take place in meeting rooms. Football stadiums, basketball gyms and baseball diamonds were the chosen venues. But the vibe was the same then as it was Monday, and it made you proud in that real, if not somewhat hokey, Rockwellian way.
Seeing such sentiment return to the city I've called home for 26 years was incredibly refreshing.
When hundreds of community members, young and old, packed the meeting room at the district office to show their support for recently fired Lawrence High boys basketball coach Mike Lewis, they did so as one voice. They were not upper class or lower class. They were not Lions or Firebirds. They were not bitter and bold or crying and confused. They were Lawrencians, the kind of people I grew up learning from, looking up to and aspiring to be like. The kind of people who rallied without thinking twice when someone in this town needed their help.
Partly because of the sweeping changes that have occurred throughout society and also because Lawrence no longer is a one-horse town, that feeling has been a little tougher to come by during the past couple of decades.
There have been nights when residents have come together to wear the same T-shirts in support of an ailing neighbor or teammate and days when, as tough as it might have been, Lions rooted for Firebirds or Firebirds rooted for Lions because, as the saying so proudly goes, "They're all Lawrence kids."
But not since the town welcomed a second high school in 1997 has the feeling of city-wide camaraderie been this prolonged and this profound.
Don't get me wrong. The rivalry that exists between Free State and Lawrence High is not Yankees-Red Sox, Alabama-Auburn or Kansas-Missouri. Far from it. But opening the doors to Free State changed Lawrence and divided it in ways no one could have imagined. Sure, you can still get from one side of town to the other in less than 15 minutes. And, yeah, the overwhelming majority of the people who call Lawrence home remain good people. But they're not always on the same side at all costs any more.
With this issue, it seems most are.
"Come together," John Lennon once sang in one of the greatest rock 'n' roll songs of all-time. Its original purpose was tied to politics, but in the years since the song and its tag line have come to stand for people joining together for all kinds of causes. The residents of Lawrence — Lions and Firebirds alike — are doing just that right now, and the reason goes beyond one man. It's clear that those who know Lewis like and respect him. But this whole thing is now about much more than a coach, teacher, parent or friend.
People here strongly feel that something unjust has taken place. To their credit, in a time when it would be oh-so-easy, perhaps even justified, to shrug their shoulders, exhale and get back to whatever aspect of life has them running a million miles a minute, they took time to stand up against it.
Never was that more evident than Monday, when the Lawrence High family came out in droves to support Lewis and stood arm-in-arm with several fine Free State folks — including Firebirds basketball coach Chuck Law, LHS's chief rival — who offered their support, as well.
Who knows how any of this is going to play out from here? I know people are hopeful for a positive resolution. And they should be. But Lewis very well may have won his last 17 games for Lawrence High.
Even if that's the case, the outpouring of love, compassion and support that his plight has generated in this community is by far the biggest victory of his career and one of which both he and the rest of this town should be proud.
Copyright 2018 The Lawrence Journal-World. All rights reserved. This material may not be published, broadcast, rewritten or redistributed. We strive to uphold our values for every story published.