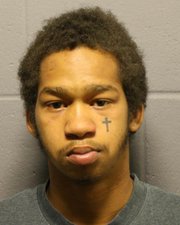 A 21-year-old Kansas City, Mo., man charged with attempted murder will be evaluated to determine whether he is competent to stand trial, a Douglas County judge ruled Tuesday.
Christopher McKay was arrested and charged with attempted first-degree murder after allegedly stabbing a Lawrence Community Shelter kitchen manager in the throat on March 13.
McKay, who is in jail on a $750,000 bond, appeared Tuesday in Douglas County District Court, where a preliminary hearing was set to take place. But McKay's attorney, Adam Hall, said that during a recent mental examination, questions arose as to McKay's competency to stand trial. Judge Kay Huff granted Hall's request for a competency evaluation.
Court proceedings will be suspended in the case pending the results of the evaluation. Huff scheduled a June 17 status conference, at which point Hall said the evaluation's results should be available.
McKay is accused of stabbing Robert Shaner, 46, in the shelter's dining hall. Shaner was taken to a Kansas City-area trauma center and released a day later after spending time in intensive care.
Copyright 2018 The Lawrence Journal-World. All rights reserved. This material may not be published, broadcast, rewritten or redistributed. We strive to uphold our values for every story published.