Kansas University is mourning the loss of a faculty member who had been teaching at KU for more than 20 years.
Thomas Glavinich, an associate professor of civil, environmental and architectural engineering, died on Sunday of cancer, according to KU. He was 62.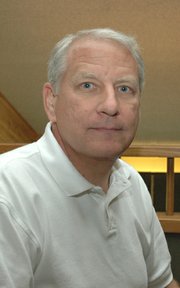 On behalf of the University of Kansas community, I extend our condolences to professor Glavinich's family, friends, colleagues and students," Chancellor Bernadette Gray-Little said in a statement. "Our thoughts are with them as they mourn this loss."
Glavinich had been a full-time member of KU's faculty since 1992. He was the director of the university's architectural engineering and construction management programs. He first joined KU as a student in the 1970s and earned three degrees there, with a doctorate in engineering coming in 1990.
"Tom showed amazing dedication to his field and, especially, his students," Dave Darwin, chairman of the Department of Civil, Environmental and Architectural Engineering, said in a statement. "He brought industry insight to the classroom and was an active contributor to the profession. He will be remembered as a mentor to young faculty and students alike."
Among others awards, Glavinich won the Student Chapter Adviser Award and the Industry Partner Award from the National Electrical Contractors Association in 2010 and 2007, respectively.
Visitation will be from 6-8 p.m. April 30 at the Porter Funeral Home in Lenexa. A memorial service will be at 10:30 a.m. May 1 at St. Joseph Catholic Church in Shawnee.
In lieu of flowers, the family suggests memorial contributions to the Department of Civil, Environmental and Architectural Engineering; St. Joseph Catholic Church; or St. Luke's Hospice House, according to KU.
Copyright 2018 The Lawrence Journal-World. All rights reserved. This material may not be published, broadcast, rewritten or redistributed. We strive to uphold our values for every story published.