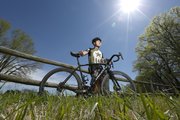 One recent evening at home with his three sons, Sunflower Bike Shop owner Dan Hughes told his 10 year old to pick up a copy of Outside Magazine's 2014 Buyer's Guide and turn to page 98.
Charlie, Hughes' son, leafed through the magazine's pages until he saw his father's mugshot staring back at him. The boy's response: "Is this a popular magazine?" Hughes eventually earned approval when he told Charlie the circulation was more than half a million.
"I got a modicum of respect from a 10-year-old more into video games than biking at this point," Hughes said.
That magazine picked Hughes' brain for a feature on gravel bicycle riding — "gravel grinding" is the term used by riders — and the equipment needed to sustain long treks on uneven surfaces. It isn't the first time that Hughes' input has been sought. One of the country's largest bicycle manufacturers, Specialized Bicycles, invited Hughes to help design a bike intended for gravel rides, even declaring it the Dan Hughes Edition. Among the bike's features is a simple but vital modification: an extra hole drilled for the use of a third water bottle.
Few know the importance of having plenty of water at arm's reach better than Hughes, who has won the Dirty Kanza 200-mile race four times. Contested the weekend after Memorial Day each year, the race winds through the Flint Hills near Emporia. Hughes' success in the race also has earned him a spot in the pages of magazines such as Road Bike Action. In his Outside Magazine feature, Hughes said he emphasized the importance of having the right bike for gravel. Skinny tires are a death sentence, Hughes said, as is a wonky nutrition plan.
Hughes's dominance in the Dirty Kanza faces its biggest challenge this year. He recently learned that a retired professional cyclist, Neil Shirley, will enter the race and ride a Dan Hughes edition bike. "It's nice to have done well at the Kanza," Hughes said. "At the same time, Neil Shirley is coming to clean my clock with the bike I helped design."
Hughes, who purchased Sunflower with his wife, Karla, about 13 years ago, said gravel riding's allure also extends to more casual riders wary of dodging vehicles on city streets. Gravel grinding, Hughes said, is the "twistiest and turniest" style of riding.
Hughes said Signal Oak near Baldwin City, where the first warnings of Quantrill's raiders originated, and Buck Creek near Oskaloosa are good spots. Otherwise "it's all about going and finding a squiggly line on a map."
Copyright 2018 The Lawrence Journal-World. All rights reserved. This material may not be published, broadcast, rewritten or redistributed. We strive to uphold our values for every story published.