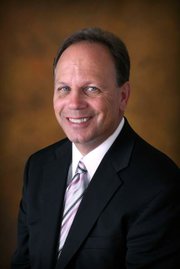 The Lawrence Community Shelter has hired a new executive director.
Steven Robinson, who has 25 years of nonprofit fundraising and leadership experience, will replace Loring Henderson, who has led the shelter since it opened in 2005 and who is planning to retire at the end of next month.
Robinson, 57, has previously served in programming and leadership roles with Saint Francis Community Services in Topeka, Saint Paul School of Theology in Leawood, the Kansas State University Foundation, Emporia State University Foundation, Iowa American Diabetes Association, Idaho American Heart Association and West Virginia March of Dimes.
Robinson was chosen for the position, in part, because of his past success in raising funds for nonprofits. "Some of the federal and state grants are kind of going by the wayside, so you need other fundraising," Robinson said. He said he plans to hold special events like black-tie galas so the shelter can continue helping people "go from being homeless to productive citizens in the community."
Robinson, a Kansas State alumnus, lives in Olathe with his wife of 14 years, Roberta.
He will start at the shelter Thursday and work alongside Henderson for the month of May to get acclimated. Robinson acknowledged that he has big shoes to fill.
"No one's going to be able to replace (Henderson)," Robinson said, "but I hope to carry on the strong programs that he started and bring experience with my fundraising background."
Copyright 2018 The Lawrence Journal-World. All rights reserved. This material may not be published, broadcast, rewritten or redistributed. We strive to uphold our values for every story published.