Photo Gallery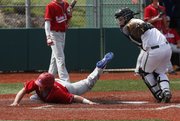 Free State-Miege baseball
Free State High senior Zach Bickling and junior Casey Hearnen knew they needed to do more to help the baseball team. They decided to put in some extra time working on their swings in the batting cages over the last week, hoping it would help them break out of their recent slumps.
They've had better at-bats throughout the week, but none compared to Friday afternoon, when they combined to drive in seven runs on three hits and help the Firebirds cruise in a 12-2 River City Baseball Festival victory over Bishop Miege at FSHS.
"We lost some self confidence up at the dish, and we just needed to get back to our old swings," Hearnen said. "We were both hitting the ball well at the beginning of the year, and that's just something we worked on, and we've been getting better each week. I think it's made a big difference these last couple of days."
Hearnen drove in two runs in the first inning with a bases-loaded single before senior Ty Walmsley hit a two-run single of his own to help the Firebirds to a 4-0 lead.
Bickling has faced a lot of offspeed pitches in the past few weeks, as pitchers know the 6-foot-2 outfielder can drill fastballs to each part of the ballpark when he gets his arms extended. Bishop Miege's right-handed reliever Zach Mahoney must have missed the memo, as he tossed Bickling a low, inside fastball, and Bickling launched it over the left-field wall for a three-run homer in the second inning.
"I didn't feel like I was going to hit it (out)," Bickling said. "I felt like I was going to hit it hard. I didn't expect a home run, though."
Hearnen added an RBI triple in the fourth inning, drilling a pitch into the left-center gap.
"It just felt really good to get some confidence up there and do some things," said Hearnen, who finished 2-for-2 with two walks and four runs scored. "Even getting walks and getting on base so other guys like Ty can hit (sacrifice) flies. We were just working well today, getting a bunch of RBIs."
Meanwhile, on the mound, sophomore Parker Tietjen made his second career varsity start and allowed just one hit in four innings while striking out two and walking three. He was supposed to start Thursday's game but stayed home sick.
"He pitched around a couple of things in a few innings, which was good to see, pitching his way out of some stuff," FSHS coach Mike Hill said. "I was thrilled with his performance."
Tietjen, a left-hander, has emerged as one of the top pitchers on the team. When he falls into trouble, he has a lightning-quick pickoff move to first base, and though he doesn't feature a fiery fastball, not many hitters can square him up.
"His breaking ball is good," said Walmsley, Free State's catcher. "He's able to mix up his pitches and throw both for strikes. He can also throw in a change-up here and there to keep hitters off balance."
Free State (8-4) left 11 runners on base Thursday and improved Friday.
"It's still a work in progress, definitely," Hill said.
The Firebirds will face Branson, Mo., at 11:15 a.m. today at Hoglund Ballpark.
Bishop Miege 000 020 — 2 3 1
Free State 450 201 — 12 9 1
W — Parker Tietjen (1-0). L — Sam Duncan.
2B — Trevor Thompson, BM; Ryan Cantrell, Hunter Gudde, FS. 3B — Casey Hearnen, FS. HR — Zach Bickling, FS.
Free State highlights — Tietjen, 4 IP, 1 H, 2 BB, 2 Ks; Hearnen, 2-for-2, 4 runs, 4 RBI; Ty Walmsley, 1-for-2, 3 RBI; Jon Saathoff, 1-for-2, 3 runs; Bickling, 1-for-3, 3 RBI.
Copyright 2018 The Lawrence Journal-World. All rights reserved. This material may not be published, broadcast, rewritten or redistributed. We strive to uphold our values for every story published.