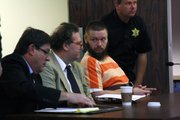 Ottawa — Prosecutors on Tuesday announced that they would seek the death penalty against Kyle Trevor Flack in connection with a quadruple homicide in Franklin County.
Flack, 28, is accused in the 2013 shooting deaths of Kaylie Bailey, 21, of Olathe; her 18-month-old daughter, Lana-Leigh; Andrew Adam Stout, 30, of Ottawa; and Steven Eugene White, 31, of Ottawa.
During an arraignment hearing Tuesday, Franklin County Attorney Stephen Hunting said the state would seek the death penalty against Flack for the deaths of Kaylie Bailey and her daughter.
In the notice of intent to seek the death penalty, prosecutors said Kaylie Bailey was killed "in an especially heinous, atrocious, or cruel manner."
The court document also says Flack had a previous conviction of attempted murder. He had served four years in prison for the 2005 shooting of an Ottawa man.
Prosecutors have charged Flack with first-degree murder in connection with the slayings of Stout and White and will seek a "Hard 50" sentence in each case, which provides 50 years in prison with no possibility of parole.
During the approximately 10-minute arraignment hearing, Flack, dressed in a jail outfit, sat in shackles by his attorneys, Ron Evans and Tim Frieden, with the Kansas Death Penalty Defense Unit.
Flack waived his right to a speedy trial. He was silent on entering a plea, so Franklin County District Court Judge Eric Godderz entered pleas of not guilty.
A tentative trial date was set for Sept. 21, 2015. A hearing on motions in the case is set for this June 6.
The bodies of the adults were found in May 2013 at a rural house where Flack had once lived, about five miles west of Ottawa. The child was believed to have been killed there too, but her body was found in a suitcase in a creek in Osage County about 20 miles west.
The criminal complaint filed by prosecutors says that Bailey and her daughter were killed on May 1, while Stout was killed April 29 and White was killed between April 20 and April 29.
Flack also is charged with being a convicted felon in possession of a firearm and sexual battery of Kaylie Bailey.
Attorneys for Flack and for the state declined to comment after the hearing.
Kansas' death penalty statute was struck down in 1972 and reinstated in 1994. But there have been no executions since then. The last execution in the state was in 1965.
Currently, there are nine men in Kansas who are sentenced to die by lethal injection.
Copyright 2018 The Lawrence Journal-World. All rights reserved. This material may not be published, broadcast, rewritten or redistributed. We strive to uphold our values for every story published.