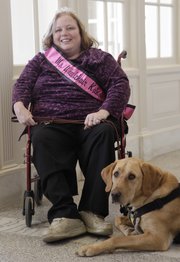 Bridgid Schwilling, 43, has seen her share of adversity.
Living a life with cerebral palsy hasn't always been easy, especially since she began using a wheelchair years ago. Still, she calls herself an "overcomer."
The Leavenworth resident and former Lawrencian didn't let her disability hold her back. She received a bachelor's degree in education from Kansas University in 1996 and a master's degree in social work from Washburn University in 2001.
But after leaving her position as a substance abuse counselor in 2012 due to health issues, Schwilling said a rough year of unemployment left her nearly hopeless.
"I was depressed, angry, scared and lost. I wasn't sure why this was happening," Schwilling said. "I thought, 'What am I going to do now? What is my purpose now?'"
That's when Schwilling said she found her strength.
She began doing pool workouts three times a week, losing more than 50 pounds in about six months. After hard work, she felt healthy, motivated and inspired.
"I realized I didn't deserve what I was doing to myself," Schwilling said. "I feel like I've been freed from so many things, now."
These days Schwilling sits tall with a silk sash, glittering tiara and her service dog, Grady, at her side. Last month, Schwilling won the "Ms. Wheelchair Kansas" title at a state pageant in Topeka.
Schwilling uses her title to spread her platform, "Finding a Purpose through Adversity," throughout Kansas. Schwilling said adversity, like the struggles she's faced, should be celebrated, not feared.
"Nobody wants adversity, no one hopes for it," Schwilling said, "but I see it as an opportunity to grow. It shows you can live your life in victory, not in perfection."
One day she hopes to open her own private counseling practice, but for now, she said she's enjoying being the voice of wheelchair-mobile Kansans.
"The thousands of Kansans with disabilities all have something to say," Schwilling said. "We have a purpose and a message."
For the next year, Schwilling will be sharing her story, making appearances, educating communities and advocating for disability rights in Kansas. In August, she will travel to Long Beach, Calif., to compete for Ms. Wheelchair America.
More information on Ms. Wheelchair Kansas and Schwilling's upcoming appearances can be found at http://www.mswheelchairkansas.org/.
Copyright 2018 The Lawrence Journal-World. All rights reserved. This material may not be published, broadcast, rewritten or redistributed. We strive to uphold our values for every story published.