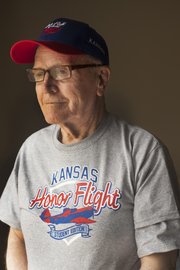 Marine Corps veteran John McCoin has been to Washington D.C. several times but has not been there recently enough to see the World War II Memorial, which opened in 2004.
On Friday, the 83-year-old Lawrence resident will fly to Washington with a group of other veterans and students of Lyndon High School, courtesy of the Honor Flight Network, a non-profit that organizes trips for veterans to see national war memorials.
"I'm really excited," McCoin said on Thursday as he prepared to leave. "I really enjoy going to Washington."
McCoin served during the Korean War, although he never went overseas. He was an aircraft mechanic at the Marine Corps Air Station in Cherry Point, N.C.
He grew up in North Carolina during the Great Depression and World War II. His older brother, Cecil, served during World War II in Europe.
McCoin remembers as a child collecting scrap metal for the war effort; once he got 35 cents for his labors.
"I thought I was in the chips," he said, although he figures he probably squandered the money.
He joined the Marines at 17. After four years in the Marines, and 16 in the reserve, McCoin switched over to the Army Reserve for 19 years.
During this time, he went from earning his GED to getting college degrees in social work. "I went from GED to Ph.D.," he said.
He came to Kansas in the 1980s to take a job as a supervisory social worker at the Veteran's Administration hospital in Leavenworth.
He retired in 1994 and has lived in Lawrence ever since.
Susan Ridenour, a care manager with Project Lively, who works with McCoin and other elderly residents, said McCoin "is very engaging." She said he has written books and scholarly articles and helped people get mental health services through his work in the Veteran's Administration system.
McCoin said he also wants to visit Arlington National Cemetery, where he plans to be buried when he dies. "I always like going by there," he said.
Copyright 2018 The Lawrence Journal-World. All rights reserved. This material may not be published, broadcast, rewritten or redistributed. We strive to uphold our values for every story published.