Asparagus is one of those vegetables where freshness is incredibly important. If you have never eaten asparagus fresh out of the garden, try it. It may convince you to grow some of your own.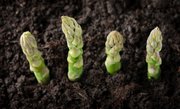 For those who have an asparagus patch, the new spears are just starting to emerge. The first asparagus that comes through the ground always seems to take a long time to reach harvest size. Asparagus growth is temperature dependent. The higher the day and nighttime temperatures, the faster it grows. As the season progresses and spears get longer, the faster it grows.
Harvest asparagus by snapping or cutting. Snapping is quick and easy. Simply bend the stalk near the base until it breaks. Snapped ends dry quickly, so refrigerate or use soon after harvest. Cut asparagus using a sharp knife to detach the spears slightly below ground level. This base is woodier than snapped asparagus, so it doesn't lose water as quickly. Woody ends should be cut off before cooking.
Asparagus benefits from a fertilizer application early in the spring. Fertilize according to a soil test. This soil test will also indicate the pH of the soil. Asparagus prefers a pH between 7 and 8. My grandparents always added salt to the bed to control weeds and "make better asparagus."
This ploy, to make me like it back then, is no longer considered a good gardening practice. Asparagus is more tolerant of salt than many weeds, but salt applied to the asparagus patch can be damaging to the soil and other nearby vegetables.
If you are starting a bed, early spring is the best time to plant asparagus. The crown should be planted in a wide trench 6 to 8 inches deep in compost and even manure-rich soil. Spread the roots out in the bottom of the trench with the buds pointing upward. Then cover with 2 inches of soil. Slowly backfill the trench as the plants grow. By mid-summer the trench will be full.
Copyright 2018 The Lawrence Journal-World. All rights reserved. This material may not be published, broadcast, rewritten or redistributed. We strive to uphold our values for every story published.