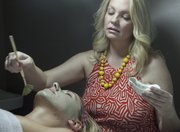 Karin Kelley says healthy skin starts from the inside-out. The Lawrence esthetician believes a healthy diet and staying hydrated are critical to looking your best.
"The skin is the largest organ in the body," said Kelley, the owner of Karin Kelley Skin Care, 2311 Wakarusa Drive. "What we put in the inside is what's going to show on the outside."
Kelley isn't alone in stressing the importance to the skin of overall good health. Skin care experts in Lawrence say the way you treat your body determines your outward appearance. So they advise eating a diet heavy in fruits and vegetables and low in processed foods, drinking lots of water and not consuming too much alcohol or caffeine. They also recommend using sunscreen on a daily basis as well as products that aren't too harsh on the skin.
Liz Black, owner of Pur Aesthetics, 719 Massachusetts St., Suite 107, believes that skin conditions like acne and rosacea are the result of poor digestive health. So she often has her clients go on a green diet where they juice every day before doing a full-day cleanse on Sundays.
She also tells people not to overdo it with the skin care products, particularly chemical-containing soaps.
"I think in our society we're overcleansing," she said. "By using soaps with these chemicals, it creates a wash-out effect. It really strips the skin of its natural protectants."
Black recommends oil-based cleansers that contain lipids and don't dry out the skin. Her business only uses plant-based, organic products; it recently started offering organic airbrush tanning made from beet juice.
Matthew Buxton, dermatologist at Free State Dermatology, 3511 Clinton Parkway, said the most important thing people can do to protect their skin is wear sunscreen every day.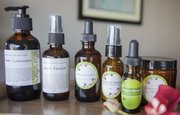 He also recommends avoiding harsh cleaners that contain a lot of grittiness or exfoliants, as they often end up irritating the skin. In addition, he advises that people with a lot of moles or a family history of skin cancer get checked regularly by a dermatologist — and that everyone stay away from tanning beds.
Shea Pritchard, co-owner of AesthetiCare Med Spa, 3510 Clinton Parkway Place, Suite 120, agrees that sunscreen is the No. 1 way to keep your skin healthy.
"People not using sunscreen and getting overexposed to the sun causes premature aging and premature wrinkling of the skin," she said. "Even I'm a victim of that myself. When I was growing up and a teenager I didn't use sunscreen. Now I'm starting to see the effects of it. At least now I can teach people the importance of it."
Marcia Butell, esthetician at Rejuvene Spa, 13 Eighth St., says skin problems like acne are often caused by using the wrong skin care treatments.
"What I find is most people are using products at home that are too drying to the skin," she said. "If they're having lots of issues with breakouts, it's usually because they've got this layer of built-up dead skin cells clogging their pores even more. It's not letting that debris get out of their pores."
She also notes how critical living a healthy lifestyle is to the appearance of your skin.
"Whatever is going on inside of the body will try to purge itself through the skin," she said. "If you're not eating right or getting enough rest or drinking enough water, your skin is going to tell the tale."
Copyright 2018 The Lawrence Journal-World. All rights reserved. This material may not be published, broadcast, rewritten or redistributed. We strive to uphold our values for every story published.