Topeka — Kansas Insurance Commissioner Sandy Praeger and senior citizen and health care groups on Tuesday urged Gov. Sam Brownback to veto a bill that they said could jeopardize health care for hundreds of thousands of Kansans under Medicare.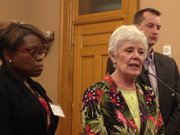 "It is shocking to me that the Legislature would pursue such a frivolous pursuit," said Maren Turner, Kansas director of the AARP.
Under House Bill 2553, the state would be allowed to join an interstate compact in which the states would continue to receive federal health care dollars, and each state could administer the programs.
Praeger said the proposal is being driven by Republican opposition to the Affordable Care Act and was seen as an easy vote by some legislators to be able to proclaim on the campaign trail their abhorrence of Obamacare.
But, she said, the measure goes much further, and would allow Kansas to take over Medicare and other federal health programs within the state.
She pointed to current policy by Brownback and the Republican-led Legislature of refusing to accept federal funds under the ACA that would pay the entire cost of expanding Medicaid for tens of thousands of low-income Kansans.
"When we have a state that is willing to turn their back on the Medicaid expansion, I have to question going forward what could happen potentially to the Medicare program if it is being run on the state level," Praeger said.
Supporters of HB 2553, however, have said the bill will protect Medicare from what they say are the excessive costs of the ACA and allow Kansas to tailor its health care needs at the state level.
In testimony on the bill, Kansas Secretary of State Kris Kobach said, "In conclusion, this compact is more than a way for Kansas to protect its citizens from the high costs, regulatory burdens, and loss of coverage caused by Obamacare. It is a means to restore the constitutional framework designed by the Founding Fathers and to return the regulation of health care to the sovereign states."
But Kansas Advocates for Better Care said the proposed health care compact would harm elderly Kansans who depend on Medicare or Medicaid because there are nursing home reforms and patient protections that are attached to federal funding of these programs.
"If Kansas opts out of the federal Medicare and Medicaid programs, Kansas will also opt out of reasonable health care standards and enforcement protections that benefit older Kansans, now and in the future," the group said.
The measure could only be implemented if approved by Congress. As a compact, it doesn't need the president's approval to become law. Praeger, who is a Republican, said it is possible that after the November elections, both the U.S. House and Senate will be in Republican hands and the prospect of a compact could become real.
Brownback's office did not respond immediately to a request for comment about the bill.
Praeger said if the governor signed the measure into law it will become a campaign issue.
"I would be very nervous if I were running in a statewide campaign about making that bloc of seniors upset," she said.
Copyright 2018 The Lawrence Journal-World. All rights reserved. This material may not be published, broadcast, rewritten or redistributed. We strive to uphold our values for every story published.