Photo Gallery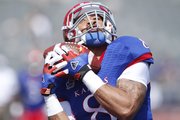 KU football Spring Game
Images from the Spring Game on Saturday at Memorial Stadium.
Press Conferences & Post-Game Interviews
Charlie Weis disappointed with first-half play of Blue team in spring game
Kansas football coach Charlie Weis was disappointed with the first-half play of KU's first-string Blue team in the spring game, which Blue rallied to win, 20-10, against the second-string White squad.
Press Conferences & Post-Game Interviews
Keon Stowers: Blue team rallied at halftime
Kansas football senior defensive lineman Keon Stowers says his Blue team rallied at halftime after the White team outplayed the first-stringers in the first two quarters.
Saturday's Kansas University spring football game, between the first-string blue squad and the best of the rest on the white team, featured more than a few head-scratching moments in front of roughly 8,000 fans at Memorial Stadium.
While the blue team rallied for a 20-10 victory after trailing 7-0 at halftime, perhaps the biggest shocker came on the first score of the game. White team receiver Tre' Parmalee hit Andrew Turzilli with a 26-yard touchdown pass on a reverse that put the underdog white squad up late in the second quarter.
Parmalee and his roommate, blue team quarterback Montell Cozart, both played their high school ball at nearby Bishop Miege High. So when the junior receiver threw a touchdown before the sophomore competing to be the Jayhawks' starting QB, it provided the two with an opportunity to, well, chatter.
They weren't the only ones. After the game, KU coach Charlie Weis shared what he told the team about Parmalee's pretty pass, which came after a nice move to get free and with a defender bearing down on him.
"I told 'em in the locker room, 'We finally found a Bishop Miege quarterback that could throw,'" Weis joked. "I had some fun with that one."
Added Cozart: "We had a trick play in high school where he threw it, so I knew he could sling it."
Asked what he expected to see or hear from Parmalee when he got back to their apartment, Cozart laughed and offered his best guess.
"We'll see," he said. "He'll probably have a blown-up picture of him rolling out hanging on the wall."
While Parmalee, who also finished with one reception for 11 yards, was the first of the two Miege grads to crack the scoreboard, Cozart's strong second half made him, by far, the game's offensive MVP.
Despite running the show for just two complete drives in the final two quarters — senior Jake Heaps handled the others — Cozart finished the day 6-of-10 passing for 58 yards and was the team's second leading rusher with 70 yards and two touchdowns on seven carries. Cozart also delivered one of the game's biggest highlights, a 60-yard scamper on a zone-read play in which he stepped out at the 3-yard line but said, "I definitely think I got in."
"Right now, I'm really happy we made the decision to play him last year," Weis said, referencing Cozart's three starts at the end of 2013. "That was not the easiest decision to make, but right now he looks like a different player."
He also feels like one. Cozart said his confidence is higher than it was at any point last season, and he played like that throughout Saturday's second half.
"I was just letting the game come to me," he said. "I wasn't forcing anything. Today was a good start."
Heaps was the first of the two to trot onto the field with the blue team on Saturday and Cozart said he thought the quarterback competition was still even. It might have been at halftime, but in the second half Cozart appeared to distance himself in the race while the rest of the blue squad followed his lead.
"You should've seen everyone's faces in there," Cozart said of the locker room scene at halftime. "Everyone had their stale face on. We didn't know what hit us. Being down 7-0 was definitely eye-opening."
Added senior defensive tackle Keon Stowers, whose eight tackles earned him defensive MVP honors: "I think that the twos looked better than the ones out there. I think the first-team defense picked it up tremendously in the second half. We were lacking in the first half. ... We knew we weren't playing up to our potential. We had been playing way better than that the whole spring. The leaders — me and (Ben) Heeney — were getting on everybody in the locker room at halftime to just pick it up."
That turnaround and the fact that the Jayhawks emerged pretty much injury-free, led to Weis calling the spring as a whole a success.
"We still have questions," Weis said. "But we also have a lot more answers now than we did in the beginning of the spring. We've implemented a new offense and we still have a ways to go, but I think it's positive at this stage. We've got to continue raising the bar around here."
Copyright 2018 The Lawrence Journal-World. All rights reserved. This material may not be published, broadcast, rewritten or redistributed. We strive to uphold our values for every story published.