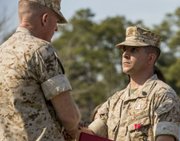 Lawrence native Brandon R. Trent, a Staff Sergeant in the U.S. Marine Corps, was awarded a Bronze Star earlier this month for his actions during the war in Afghanistan in 2013.
Trent serves as an explosive ordnance disposal technician, meaning he locates, neutralizes and disposes of explosives. He earned the Bronze Star for his actions during a 24-hour period in 2013, when he neutralized nine explosive devises during a clearing operation in Helmand Province, Afghanistan.
Matthew T. Collins, an assistant operations officer, said Trent worked late into the night, uncovering and disarming improvised explosive devices, also called IEDs. Trent had to physically approach and manually disarm two of the IEDs when remote deactivation methods failed to work.
The Bronze Star Medal is the fourth-highest military award an individual can receive, and it is awarded for acts of heroism in a combat zone. Trent also received a combat distinguishing device, which is sometimes awarded along with the Bronze Star for acts of valor.
Copyright 2018 The Lawrence Journal-World. All rights reserved. This material may not be published, broadcast, rewritten or redistributed. We strive to uphold our values for every story published.