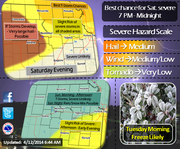 The National Weather Service issued a severe thunderstorm watch for Jefferson County and a hazardous weather outlook for Douglas and Franklin counties Saturday night into Sunday.
Thunderstorms are possible overnight for much of central and northeast Kansas. The National Weather Service warns the strongest of these storms may cause damaging winds and hail about the size of half dollars.
The severe thunderstorm watch is in effect in Jefferson County until 2 a.m. Sunday.
The National Weather Service forecasts thunderstorms throughout the Lawrence area on Sunday. By Sunday afternoon, large hail and damaging winds are possible, with wind gusts up to 30 mph.
By early Monday morning, temperatures are forecasted to drop below freezing in northeast Kansas. There is a chance of rain and light snow before 1 p.m. Monday.
Copyright 2018 The Lawrence Journal-World. All rights reserved. This material may not be published, broadcast, rewritten or redistributed. We strive to uphold our values for every story published.